Raiders Rise At Regis-Xavier Tripleheader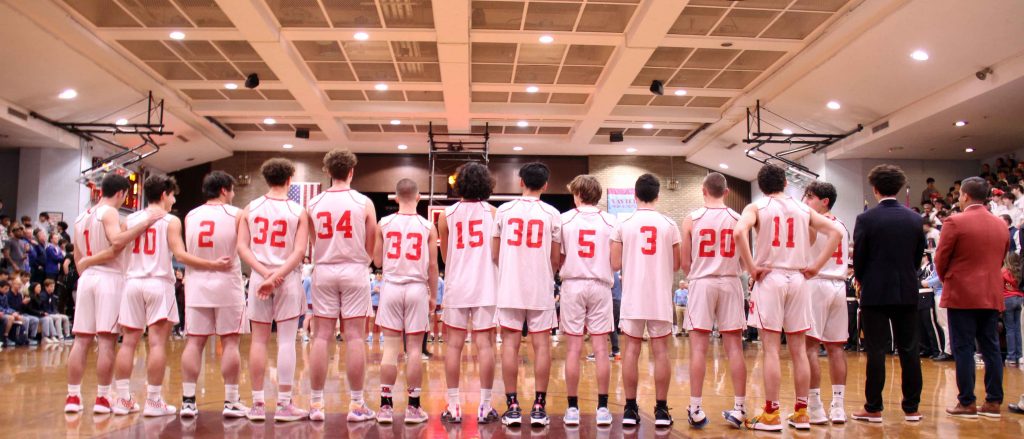 On Friday, January 27, Regis ended Spirit Week by heading downtown for the annual tripleheader against Xavier! Cheered on by a large crowd of Raiders fans, the Freshmen, Junior Varsity, and Varsity basketball teams hit the court for a spectacular set of games against our longtime rivals.
Friday's matches took place at Xavier to a packed house of students, families, faculty, staff, alumni, and friends on both sides. For those who could not attend in-person, the evening's games were livestreamed, featuring color commentary and play-by-play analysis by students in Regis' Broadcasting Club.
In the first match of the night, the Freshmen put on a valiant performance, with Argin Arora '26 getting Regis 9 of its 17 first half points. Despite a final score of 48-24, the team put on a great defensive showing and got the crowd energized for the remainder of the evening.
The JV game saw a standout performance by captain Luke Guerriere '25, who led the way with 15 points, and Jude Morrison '25 added in 8 points with excellent rebounding. Down by 5 at the end of the 3rd quarter, the team ultimately fell by a score of 58-41.
In the tightest matchup of the day, the Varsity game featured a balanced Regis attack by Brendon O'Keefe '24 (12 points), Austin Mejia '24 (11 points), Alex Sepe '24 (11 points), and Michael Donoghue '23 (9 points). Down by 5 points with under 5 seconds to play, Sepe drained a three-pointer against strong defense, closing the final deficit to a score of 52-50.
Posted: 2/3/23