Spirit Week Brings Regis Together!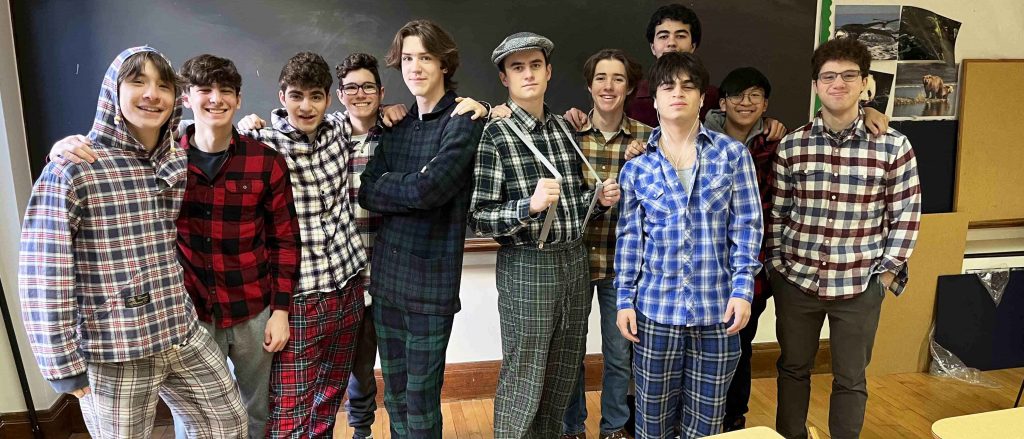 Beginning Monday, January 23, students, faculty, and staff put their love of Regis on full display for Spirit Week. Organized by Student Government, the week-long celebration included a number of activities for the school to enjoy and build community through.
A staple of Spirit Week, every day saw a different themed Grub Day that gave the community a fun way of expressing itself. Monday saw sports rivalries play out for Jersey Day, and advisements got creative with group outfits on Tuesday. Summer break came to 84th St. early on Wednesday for Beach Day, while Thursday's Pajama Day ensured that everyone felt cozy. On Friday, the whole school dressed in Regis white, standing behind our Raiders for the evening's basketball tripleheader against Xavier.
The week also offered a variety of programs that allowed students, faculty, and staff to further their bonds outside the traditional classroom setting. For sports-lovers, three Community Time basketball games pit Freshmen against Sophomores, Juniors against Seniors, and Seniors against Faculty. The Freshmen came from behind to win their game, and while the Seniors bested the Juniors in overtime, they fell to the Faculty in a classic Regis match-up. Other activities throughout the week included video games and Spikeball tournaments, a paper airplane contest, and a Hot Ones-style wings eating competition amongst the faculty.
Closing out Spirit Week, the entire school gathered in the Auditorium on Friday afternoon for a pep rally ahead of the Regis-Xavier Tripleheader. The basketball teams and devoted Raiders fans then headed downtown to go head-to-head with our biggest rivals.
"Following the COVID-induced restrictions of the past two years, Spirit Week this year marked the conclusion of a huge comeback for the Regis community," shared Student Government Director of Communications Dean Minello '23. "Student Government brought their planning and organizing A-game, running successful events from the Freshman-Sophomore Basketball game to Senior-Faculty Family Feud, to Hot Ones, and even partnering with Catalyst to promote our annual, highly successful St. Baldrick's head-shaving event. We saw amazing turnout for events, immense enthusiasm for our school, and plenty of laughs. Thank you so much to everyone who participated in this year's Spirit Week, and I'm sure next year will be even better!"
Posted: 1/31/23