Remembering Veterans on the 100th Anniversary of Armistice Day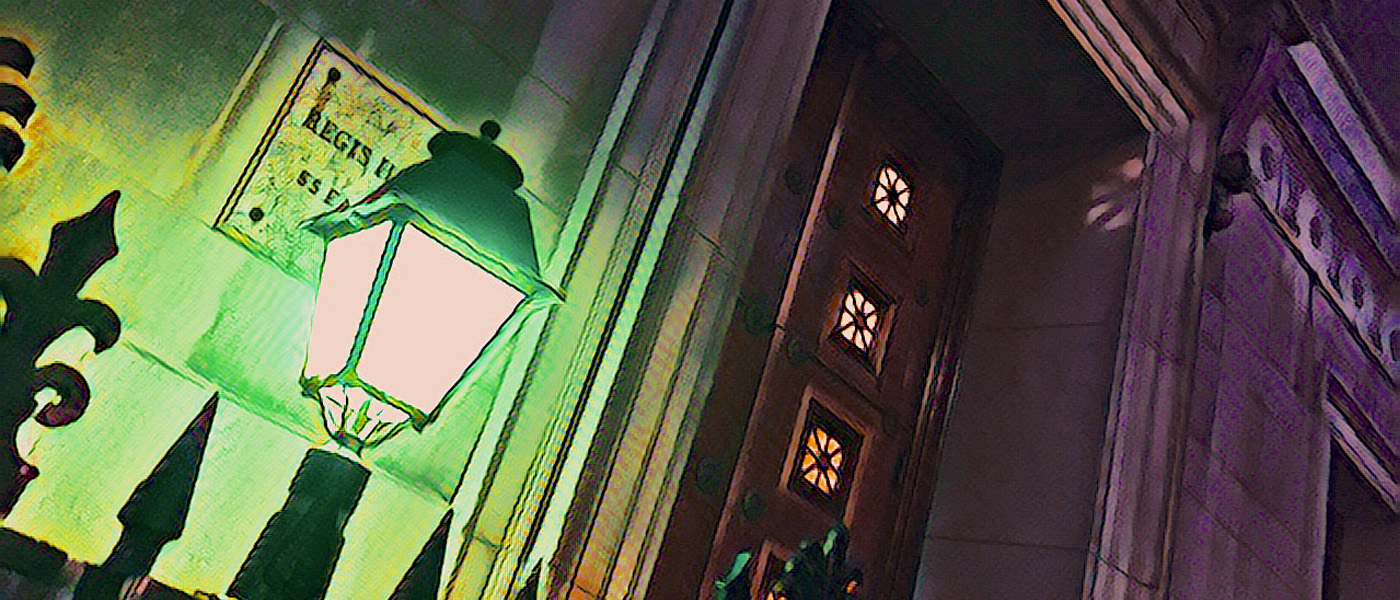 Pictured: As part of the #greenlightavet initiative, the lights outside of the 84th Street entrance are green again this Veterans Day weekend as a symbol of appreciation and support for our veterans.
One hundred and four years ago—as war was breaking out across the Atlantic Ocean on a scale previously unimaginable—a school opened its doors on 84th Street in Manhattan with a bold goal: to provide tuition-free Jesuit education to high school boys whose families could not otherwise afford a Catholic education. Since then, Regis has produced countless Men for Others, a number of whom have served our country in the armed forces. Regians have served in World War II, the Korean War, the Vietnam War, the Gulf War, and the ongoing conflicts the nation is involved in today.
Now, one hundred years after the conclusion of World War I, we reflect on those who have proudly served. We honor the 100th anniversary of Armistice day by honoring and cherishing those soldiers in our community. In their service, these brave men have exemplified the Regis call to serve God and country.
On this 100th Anniversary of Armistice Day, Regis honors our living alumni veterans and active-duty service members who have served our country, listed below. Help us keep this list accurate. Email edits to communications@regis.org.
"The call to be great hearted, to have the noble heart and to dare the hero's part, is very much the spirit of Regis High School, an idea and an institution born out of vision and generosity." —Rev. Joseph A. O'Hare, S.J. '48  |  Diamond Anniversary Address, April 1, 1989
Living Alumni Veterans and Active-Duty Service Members
Class of 1935
Ovid DiFiore
Army
Class of 1944
Donald Dougherty
Thomas Glasser
Army
Class of 1946
Bob Fortier
Army
Class of 1947
Robert O'Neil
Marine Corps
Class of 1948
Andrew L. McMahon
Army
Class of 1949
Robert Byrnes
Navy
Frank Cryan
Army
David Donohue
Navy
James Evrard
Army
Joseph Garon
Army
Robert Hatch
Marine Corps
Paul Geisler
Navy
Howard Gould
Air Force Medical Officer
Andrew Hernon
Army
Joseph Mulqueen
Naval Chaplain
Edward Romary
Air Force
George Roos
Navy
Richard Simler
Navy
William Storz
Naval Surgeon
Gerard Watson
Marine Corps
John Weiser
Navy
Class of 1950
John Corrigan
Army
Bob Dalury
Marine Corps
Tom Delaney
Army
Paul Giuffre
Navy ROTC
Howard McCormack
Navy ROTC
Ray Murphy
Navy ROTC
Michael O'Connor
Joe Purtell
Navy ROTC
Class of 1951
Erich Baumgartner
Navy ROTC
Joseph Biscoglio
Army
Donal Butterfield
Navy ROTC
Barry Cullen
Pete Donovan
Marine Corps
Thomas Delahunty
Army
Dr. Thomas Fahey
Air Force
John Foley
Army
William Foote
Navy ROTC
James Hagan
Air Force
William Kane
Air Force
John Konvalinka
Naval Aviator
Charles La Belle
Army
Francis Lynch
Army
Donald McCarthy
Army
James O'Rourke
Navy ROTC
Hugh Quinn
Army
John Ryan
Air Force
Paul Tomes
Marines
Bernard Tracey
Navy ROTC
Robert Walsh
Army
James Winberg
Navy ROTC
John Wynne
Class of 1952
Michael Hayes
Navy
Class of 1953
George Bouvet
Air Force
Gordon D. Brownlee
Marine Corps
Brian Fitzgerald
Marine Corps
Fred Gluck
Air Force Reserves
John Russo
Navy Medical Officer
James Whelan
Army
Class of 1954
Frederick Burgess
Coast Guard
Thomas Cahill
Coast Guard
John Conroy
Navy
Thomas Curley
Army
Donald Dodd
Air Force
Richard Emmons
Air Force
John Fanning
Army Intelligence
Francis Franks
Army
Michael Lanzarone
Army Military Police
Traugott Lawler
Marine Corps
Sam Milana
Army Paratroopers
William Monahan
Army
David Nicholas
Public Health Service Officers
William Noval
Army Reserves
Matthew O'Connell
Naval Reserves
Robert O'Connor
Army Signal Corps
Francis O'Regan
Navy
Joseph Panzarino
Navy
James Perrone
Air Force
Thomas Smith
Air Force
Robert Stibler
Navy
Phillip Trainor
Navy
Richard Ward
Army
Edward Wilson
Navy
Class of 1955
Ron Polant
Lou Umscheid
Air Force
Class of 1956
Harold Bauman
Jack Dowling
Edward Gallagher
William Kelly
Richard Kuhn
Jeff Landau
Charlie Lynch
Daniel McCarthy
Dennis McGrath
Ray McGuire
Edward Moran
William Noll
Fergus O'Scannlain
Peter Philbin
William Postner
Frank Reilly
Robert Shaffhauser
Andre Vernot
Edward Walsh
Charlie Wertalik
Class of 1957
Robert Arbour
Army
William Barbieri
Air Force
Ray Begin
Army
Michael Burke
Marine Corps
John Caronna
Navy
John Carroll
Gene Cheslock
Navy/Marine Corps
Tony Chessick
Navy
James Cox
Air Force
James Coyle
Navy
John Cummings
Air Force
Tom Donnelly
Air Force
Pat Fitzpatrick
Navy
Dennis Flannery
Army
John Garvey
Air Force
William Gillen
Army
James Gow
Air Force
Jack Hannon
Navy
Andy Jackson
Air Force
Jerry Jehnson
Army
Packy Lawler
Marine Corps
Tom Lippman
Army
Mike McCormack
Navy
Joe Phelan
Army
James Power
marine Corps
Edward Sayre
Air Force
Ray Schuerger
Army
Florian Storch
Navy
Walter Sullivan
Army
Joe Vaira
New York National Guard
Willie Werwaiss
Navy
Vin Zichello
Army
Class of 1958
Robert Bastek
Coast Guard
Joseph Blass
Air Force
Dennis Card
Air Force
Chris Daly
Army
John Forrest
Nav
John Friia
Army
George Garces
Marine Corps
John Kelly
Navy
Daniel Marshall
Navy
James M. Moran
Navy
Michael Napoliello
army
Philip Otero
Air Force ROTC
Raymond Sisk
Navy Reserves
Robert Stanley
Air Force
Charles Stark
Navy
Jeremiah Sullivan
Coast Guard
Philip Volastro
Air Force
John Zeman
Army
Class of 1959
James Alexander
Army
James Bonnell
Army
Pat Brosnan
Navy
Richard Gembecki
Army
Richard Loeffler
Army
Pat Monahan
Army
Ed Montell
Navy
Paul Mulligan
Army
John Nugent
Army
Daniel O'Leary
Navy
Tom Reilly
Army
Gerry Swinarsky
Air Force
Ralph Thomann
Army
Leo Tymon
Army
Larry Warnken
Navy
Class of 1960
James Barbara
Army
William Dickey
Air Force
Stephen Greene
Marine Corps
Edwin Powers
Army
Class of 1961
Robert Bonnell
Army
John Kelly
Air Force
Robert A. O'Brien
Air Force
Sebastian Pandolfo
Army
Class of 1962
Joseph Mullaney
Army
Richard Muth
Army
John Shay, Jr.
Army
Class of 1963
Mark Olesnicki
Army
William Pries
Navy Judge Advocate General's Corps
Class of 1964
Eugene Boggia
Naval Reserve Unit
Gerard Carroll
Air Force
Timothy Chorba
Army
Joseph Cirrito
Army
James Hoolahan
Navy
William Janofsky
Air Force
John Keane
Army
Kenneth Kelly
Army
Richard Luc
Air Force
Dennis Moulton
Ed Murphy
Army
James O'Keefe
Army
James Oliviero
Judge Advocate General's Corps
Bernard Owens
Navy Medical Corps
James Pielli
Air Force
Daniel Pukstas
Navy
Martin Quigley
Navy Reserves
David Ritchie
Army ROTC
Kevin Rodgers
Army
Robert Shullman
Army
Frank Silvestri
John Steinmuller
Marine Corps
Ronald Tristal
Army
Neil Walsh
Navy
Jeff Weinlandt
Army
Class of 1965
James Barry
Air Force
Richard Jefson
Army
Class of 1966
Karl L. Blaha
Army
James Elliot
USANG
George Hodges
Army
Edward Marut
US Public Health Service
Patrick Mazzeo
Army
Gerald Schwerdt
Navy
Robert Thomas
army
John Van Name
New York National Guard
Class of 1967
Terry Chorba
Jack Hund
Steve Malone
Navy
Pat Murphy
Dennis O'Brien
William Yadlon
Army
Class of 1968
Dennis Eaton
Marine Corps
Robert Minutoli
Army
Class of 1970
Blair Bozek
Air Force
Tom Daly
Marine Corps
Louis P. Deasaro
Navy
Robert Gasser
Air Force
William Lee
Navy
Steven Nevins
Air Force
Jonathan rusch
John Sullivan
Class of 1971
Roger Moran
Navy
Class of 1972
Thomas Abate
Navy
Kevin Gil
Air Force
John Hederman
US Public Health Service
Stephen Kaczynski
Army
Kevin Murray
Navy
Bohdan Twerdowsky
Army
Class of 1974
Thomas Cannon
Navy
Class of 1976
Michael Antonucci
Air Force
Rich Mathus
Fr. Gerald Murray
US Naval Reserve Chaplain
Class of 1978
Thomas P. Doyle
Army ROTC
Gregory Sullivan
Air Force ROTC
Class of 1979
John Feeley
Marine Corps
Marty Newshan
Navy
Kevin Rochford
Marine Corps
Dave White
Army
Class of 1980
John Buckheit
Army Judge Advocate General's Corps
Patrick McGreal
Army
Class of 1981
Neil McCarthy
Army Medical Corps
Michael Morriss
Navy
Paula Neira
Navy
Class of 1982
Al Blumenstock
Marine Corps
Christopher Carl
Marine Corps
Peter Driscoll
Navy
Class of 1983
Donald Culkin
Coast Guard
Andrew Lennon
Navy
Patrick J. Mahaney, Jr.
Army
Class of 1984
Raymond McGoldrick
US Army Medical Corps
Richard Paul Sorrentino, Ph.D.
US Army Reserve
Valentino Vila
Navy
Class of 1986
David Duff
Navy
Donald Hess
Air Force
Class of 1988
Orlando Acosta
Air Force
Class of 1989
Kevin Gerrity
Navy
Wilson Kim
Air Force
Class of 1990
Fred Baptiste
Marine Corps
Jan Sydor
Marine Corps
Class of 1991
Peter Gallagher
Navy
Timothy Kelly
Tremaine Sayles
Army
Class of 1992
Michael Brons
Chris Dougherty
John Pacor
Class of 1993
Jermaine Leonard
Class of 1995
Frank Cowan
Air Force/Navy
Tom Kelly
Navy ROTC
Class of 1996
Carlos Capellan
Army
Mike Harmon
Navy
Marin Dragojevic
Navy
Keith Schoales
Class of 1997
Mike LaValle
Army
Dan Sullivan
Michael Toth
Class of 1998
Mike Zanetti
Class of 1999
Ben Klay
Patrick Shaw
Class of 2000
Frank Parisi
Class of 2001
Phil Klay
Marine Corps
Daniel Socci
Marine Corps
Class of 2002
Mike Conway
Stephen Deere
Class of 2004
Daniel Rios
Navy
Michael Jordan
Air Force
Class of 2005
Matthew Guido
Marine Corps
Michael Wolff
Navy
Class of 2007
Cris Espinal
Michael Orzetti
Marine Corps

Michal Poplawski

Army
Class of 2008
Patrick Coughlin
Army
Class of 2009
Anthony Finch
Daniel Ramirez
Army
Class of 2012
Max Umland
Class of 2014
Harry Aquino
Air Force
Maxwell Dopsch
Navy
Class of 2016
Max Morreale
Charles O'Brien
Posted: 11/10/18