Regis Repeats as CHSAA "AA" Boys Soccer City Champions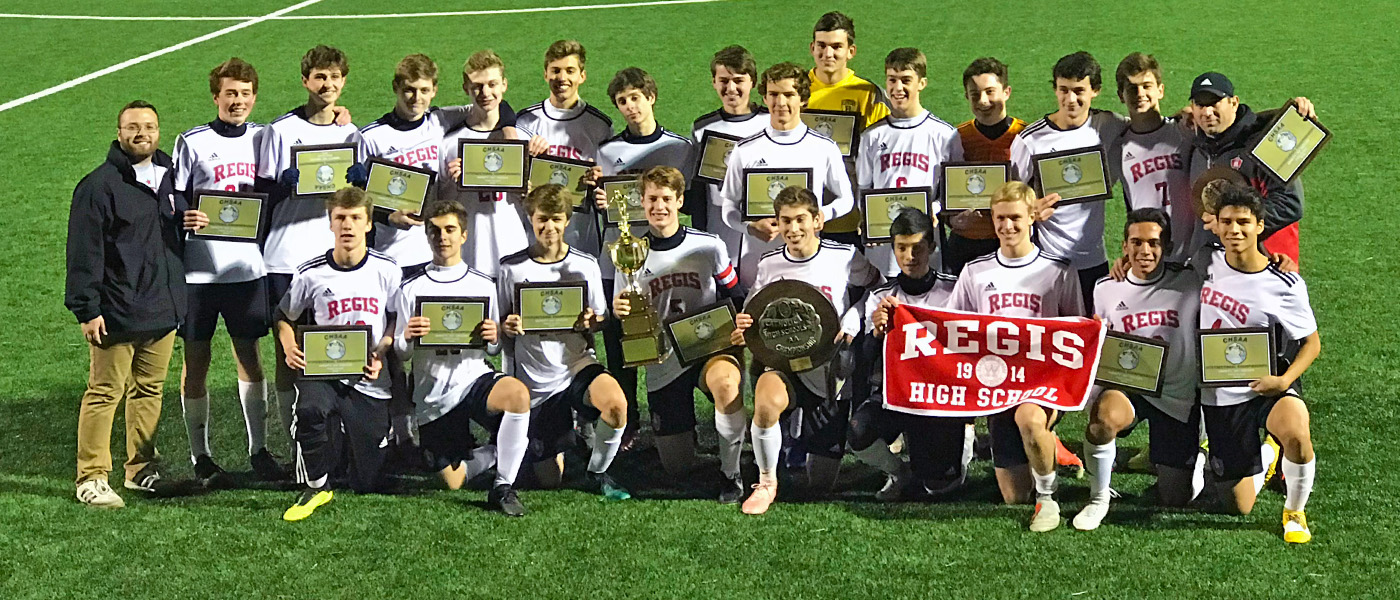 The New York marathon might have been run on Sunday but, for Regians, it was only the second most important sporting fixture on this particular weekend.
At St. John's University in Queens, Regis Varsity Soccer took on St. Francis Prep (who handed Regis one of its three league losses in a 2-1 mid-season match) in the 2018 CHSAA Boys "AA" Championship.
Both teams came into the game as number one seeds from their respective dioceses, and it showed. The teams were evenly matched, and competed on the pitch in what would prove to be a battle of two stalwart defenses. After 80 minutes, there was nothing to separate the two teams, and so extra time was needed.
At the end of extra time, the scoreline still read 0-0, and so penalties were needed to decide the champion. With the game at his feet, junior Francis Barth '20 slotted his penalty home into the bottom right corner to win the game (the final was 5-3 in penalties) and win Regis its second consecutive city championship.
"Winning our first ever "AA" soccer championship for Regis last year was something special and the large group of graduating seniors left their mark on the program," head coach Vincent Catapano said. "With a different roster composition with only eight seniors this year it is truly amazing to go out and repeat––not only winning the Archdiocesan Championship but also repeating as City Champions. It shows what hard work, dedication and perseverance can do and I am amazed every day with this talented group of student-athletes has been able to accomplish."
Regis continued on to compete on to the New York Catholic State tournament,  where it first met the representative from the Buffalo Diocese, St. Joseph Collegiate in a semifinal matchup. After an exciting win, Regis reached its second straight New York State Final. In an exciting defensive struggle, the Raiders unfortunately fell to Chaminade by a final score of 1-0.
Congratulations to Coach Catapano and the whole team for an incredible season!
Watch: Regis wins the 2018 CHSAA AA Boys Soccer City Championship on final penalty kick. Video Courtesy Karen Crowley P'20.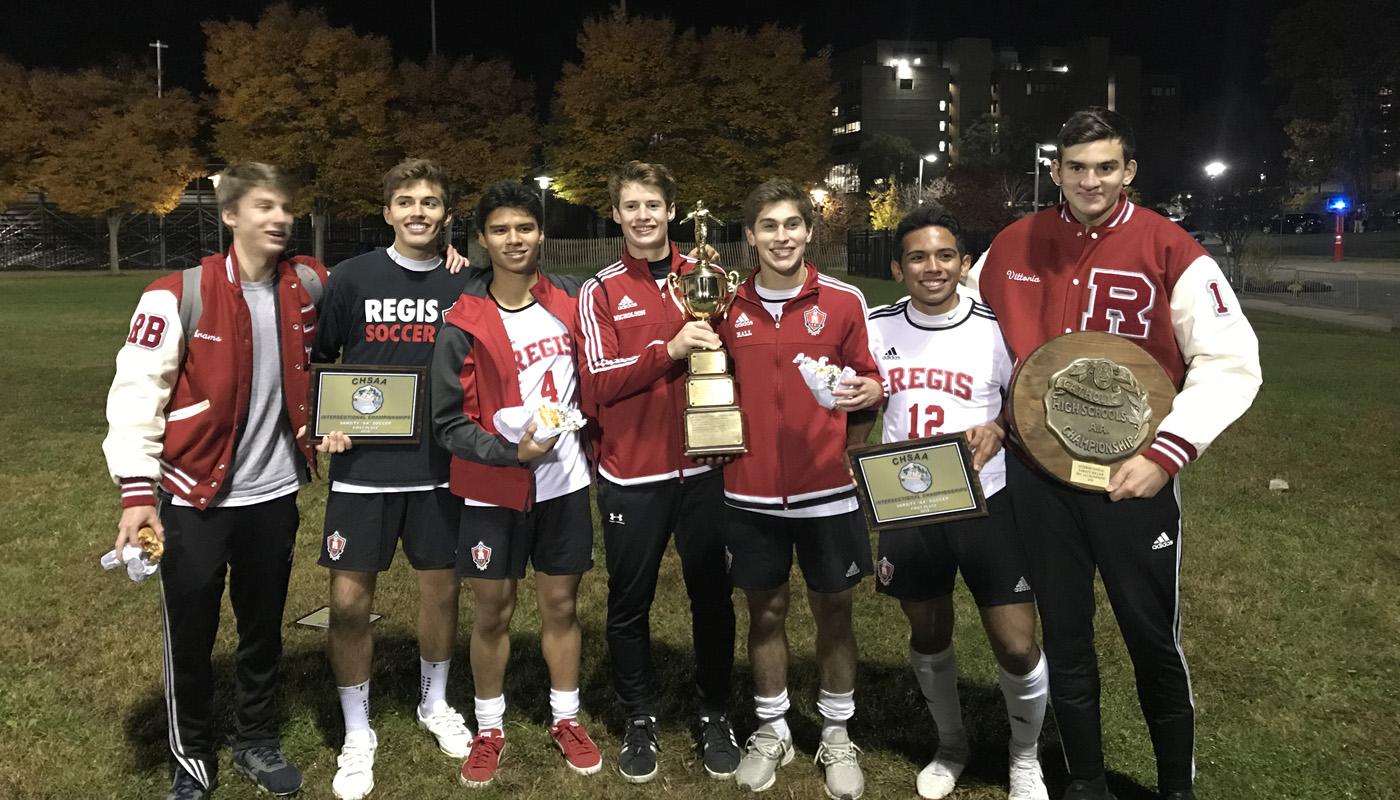 The seven senior members of the team celebrate a second consecutive city championship.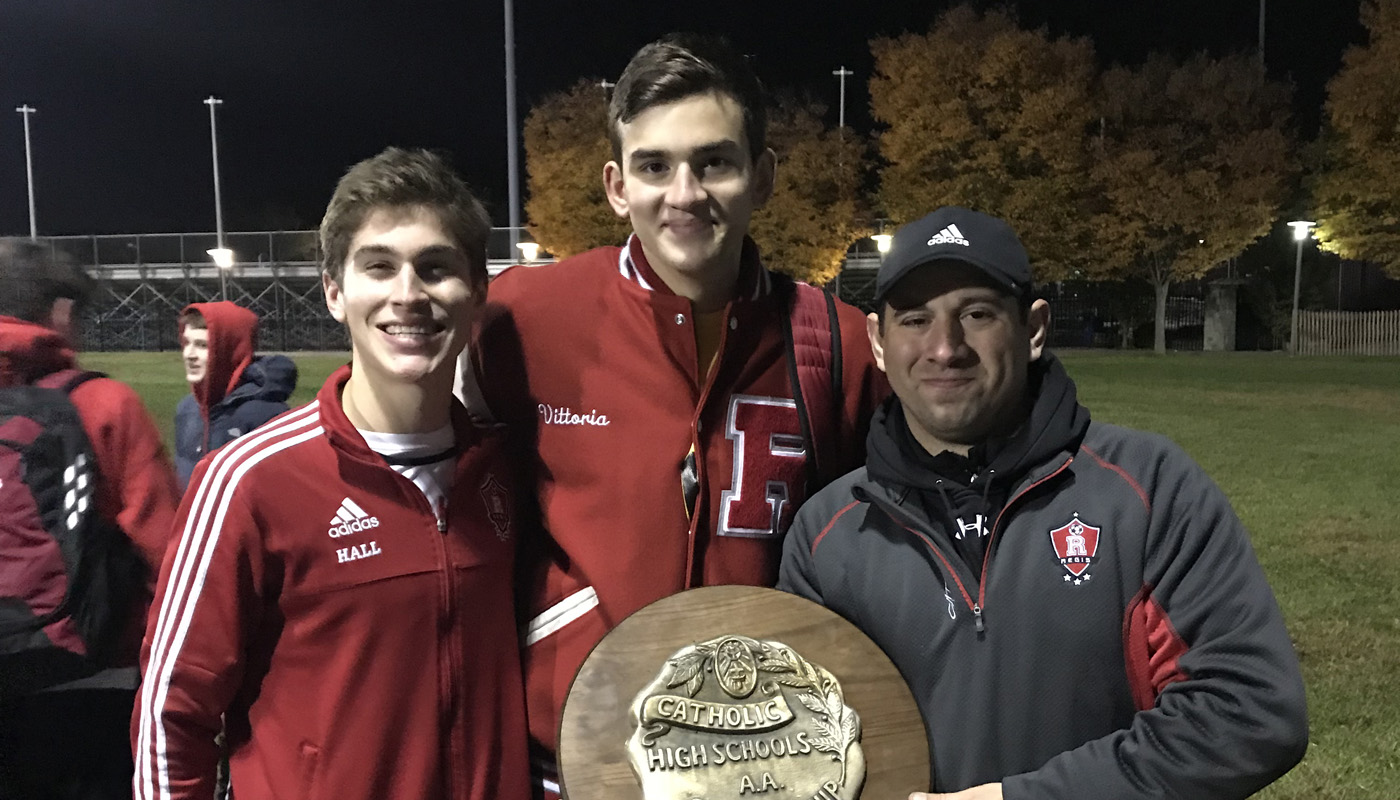 Coach Vincent Catapano celebrates with seniors.
Posted: 11/8/18