Dr. John Tricamo to Receive Deo et Patriae Award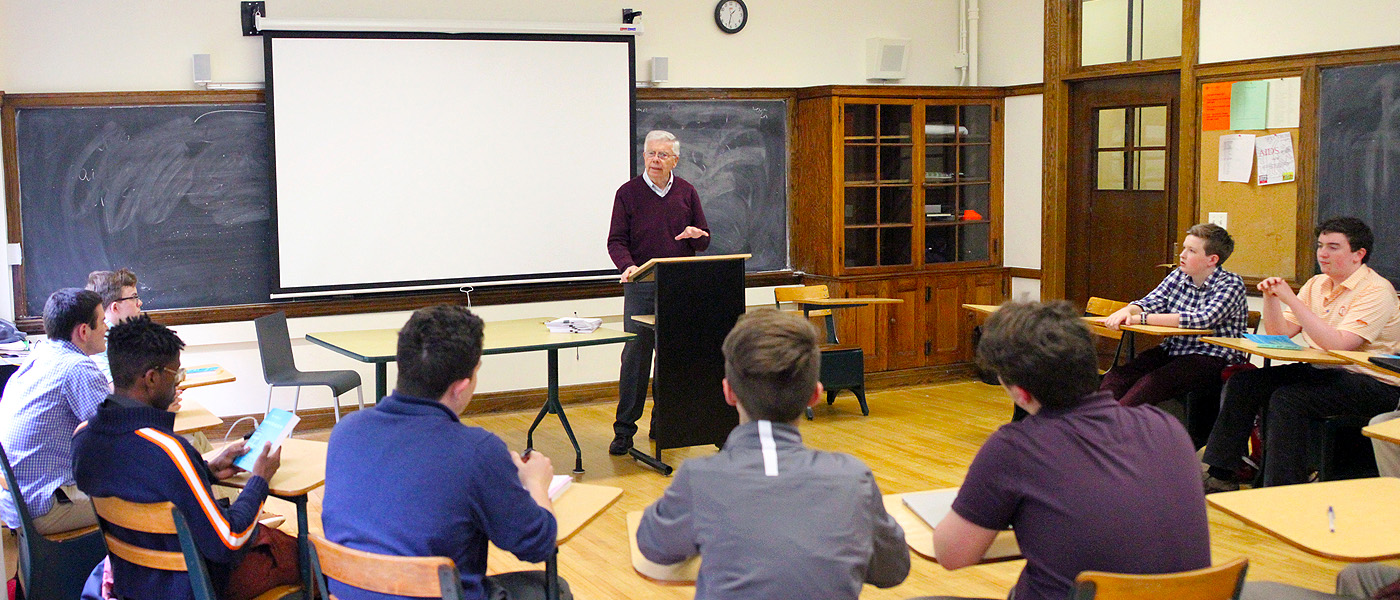 Dr. John Tricamo—a long-time faculty member at Regis who retired this past school year—has been named the 2018 recipient of the Deo et Patriae Award.
Established in 1981, The Deo et Patriae Award is presented to a person who has served Regis and the community in a distinguished capacity during the course of his/her life. The award is celebrated annually each fall at the Deo et Patriae reception, which recognizes supporters of Regis High School at the Order of the Owl level. Qualifying donors will receive their mailed invitations to the 2018 reception by the end of September.
Dr. Tricamo, who holds his BA and MA in English Literature from Fordham University and his PhD in English and American Letters from NYU, began teaching at Regis in the fall of 1966, teaching English, Latin, and Physiology. After a brief stint teaching English at the Loyola School and then English at Fordham Preparatory, he returned to Regis in the fall of 1972 in the role of Assistant Headmaster for Administration. In 1981, he transitioned to his role as full-time English teacher. He served as department head multiple times, and taught many classes, including a senior favorite, the "Short Story Seminar." Dr. Tricamo also taught freshman speech for nearly 40 years. In total, Dr. Tricamo has served Regis as a teacher, administrator, colleague, and friend for 47 Years.
This past spring, Dr. Tricamo was awarded the 2018 Patricia Hannon Ignatian Educator award, a recognition given to a faculty member whose dedication to his or her students fosters a learning environment that is the model of Ignatian pedagogy.
"Dr. Tricamo taught every student since he began teaching freshman speech," said Rev. Daniel K. Lahart, SJ, President. "He was a perennial favorite because of his keen mind, his gentle manner, and his total dedication to our students. I am grateful for having had the opportunity to work with him even briefly."
James Kennedy '02, Director of Development, reflected in a summer 2018 Regis Magazine article that, "the world is full of better men because of the example John has set."
Regis is tremendously thankful for Dr. Tricamo's 47 years of service to the school, and proud to present him with the 2018 Deo et Patriae award.
Posted: 9/19/18