Summer 2018 President's Report: Was It a Good Year?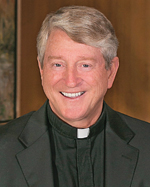 "So, Father, was it a good year?"
It is a question that is asked often at the end of a year. Of course, the answer is always, "Yes!" Some years come with caveats to them that have to do with "except for the..." which might recall a disciplinary action, the death of someone, or a hundred other circumstances.
And there might be as many reasons why it was a good year.
This was a good year, and there are lots of reasons for that. Of course, our students excelled in a large variety of areas. Their academic successes were numerous, many of which are chronicled in the pages that follow. We had tremendous athletic success—including two City Championships and one State Championship. I have joked that we are turning into a jock school. Successes continued in extracurricular areas as the Hearn racked up another State Championship of its own, and made it to the semifinals of the National Championship.
On the faculty side of the house, we said goodbye to several veteran members who have served us well over the decades, and we look forward to the fall as we welcome those who follow them—all part of the cycle of a school's life. While retirements are not good in themselves, they represent what is so exceptional about Regis: an outstanding, dedicated faculty who challenge, cajole, and enlighten young minds year after year. While we have celebrated the retirement of several "legends" in recent years, we know that there are others in the wings ready to pick up the mantle for the challenge yet ahead.
We had a very good year on the financial end of business. We broke last year's record in the Annual Fund with roughly $9.9 million in support of our mission. This level of support says to me that, yes, this unique model of education can indeed survive in a world of skyrocketing tuition charges and education costs.
And we had a very good year completing our first ever strategic plan. Look for a full roll out of the strategic plan in the fall, but allow me to give you a glimpse of what to expect. As you may recall, we had eight task teams looking at different aspects of Regis. We had about 40 recommendations that came out of the task teams, and from those we created four themes. The themes, which will be expanded upon in the fall
Regis Magazine
, include:
Magis: Invest in a second century of academic excellence and service to and with others
Mission-driven Community: Identify, attract, and inspire exceptional and diverse students and faculty
Cura Personalis: Support student success
Men for Others: Cultivate Catholic leaders committed to social justice
I look forward to unpacking these with you in the fall, but I assure you that this is a very exciting time for us as we move to implement this strategic plan.
Yes, it was a good year, and while it—like every year—had its own challenges, we look forward to this time of summer and to welcoming the Class of 2022 to Regis in the fall. We are confident that the Class of 2018 is well positioned to succeed at their chosen colleges. They join our esteemed ranks of alumni, carrying our mission forward through the lives that they live.
Thank you for the many ways that you support our success at Regis High School. It was a very good year because so many people helped make it so.
Be assured of my prayers for our alumni and families during these days of summer.

Daniel K. Lahart, SJ
President
Posted: 8/11/18