Students Get Firsthand Account of Novel Creation and Challenges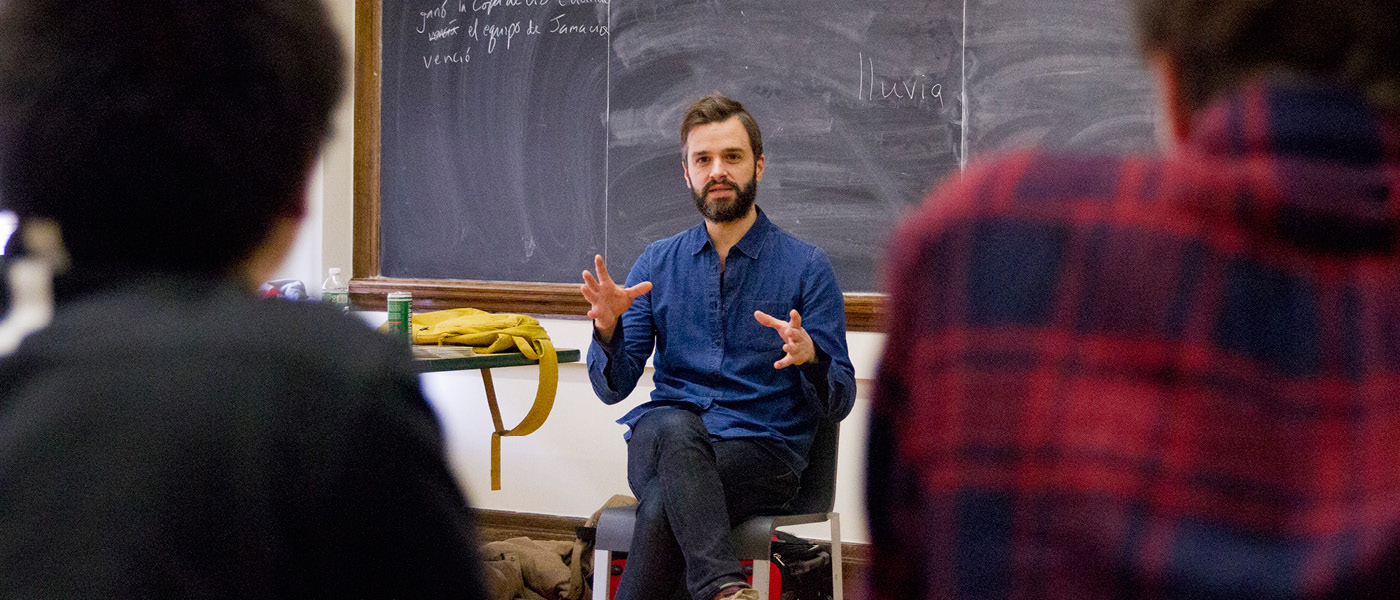 Author, actor, and musician Val Emmich visited Regis High School on March 13 to speak with students about his first novel, The Reminders.
Emmich's novel, of which Mr. Justin Kiczek's students read the first six chapters, traces the unlikely friendship between Joan Lennon Sully, a ten-year-old girl with Highly Superior Autobiographical Memory, and Gavin Winters, television star who just lost his spouse. Joan's condition means she can remember just about everything happens to her; unfortunately, she constantly finds herself disappointed by a world that can't seem to remember her. As Gavin seeks to rebuild the memories of his loved one, Joan becomes a portal to his past, while Joan hopes Gavin can help her write a song which others will never forget.
At his visit to Regis, Emmich shared with the students the story of the novel's creation and his challenges in writing it. He also spoke of the significance of music – in both the novel and his own life. As a musician, he has released five albums, including one under Sony and has toured across the country. Emmich's talents extend to acting as well: he has starred in 30 Rock, Ugly Betty, and the HBO series Vinyl.
His casual approach connected well with students, who composed their own meditations on memory and reminders. Junior Ray Lee '19 said that "[t]hrough a question and answer session, we were able to learn more about the artistic decisions writers make, and how working through these conflicts is an arduous and rewarding task. More importantly, Mr. Emmich's engagement with the class reminded us of the great importance of our memories; by recalling the many moments of our lives, we engage in something naturally anxiety-inducing and beautiful."
Classmate Andrew Cartano '19 added, "Meeting Val Emmich was an amazing experience. Not only did we get to know the author of an amazing book, but we were able to learn about the motives and inspirations for many parts of the story, such as the music within and supplementing the novel. Val Emmich was very well spoken and answered all of our questions about the novel with grace and intelligence, and we were all entranced by his story."
Upon the novel's publication, Emmich was profiled on National Public Radio and Book Talk and in the pages of Entertainment Weekly, Huffington Post, and Harper's Bazaar. Eventually, the novel will be translated and published in fifteen different languages. Upon the success of the novel, Emmich secured a contract to write the novelization of the Broadway hit, Dear Evan Hansen, as reported in March by The New York Times.
Posted: 5/12/18