Unpacking Poverty in America: Coalition for the Homeless Presentation
President and CEO of Coalition for the Homeless presents at first school assembly focused on "Unpacking Poverty in America," the theme of this year's John Francis Regis Day.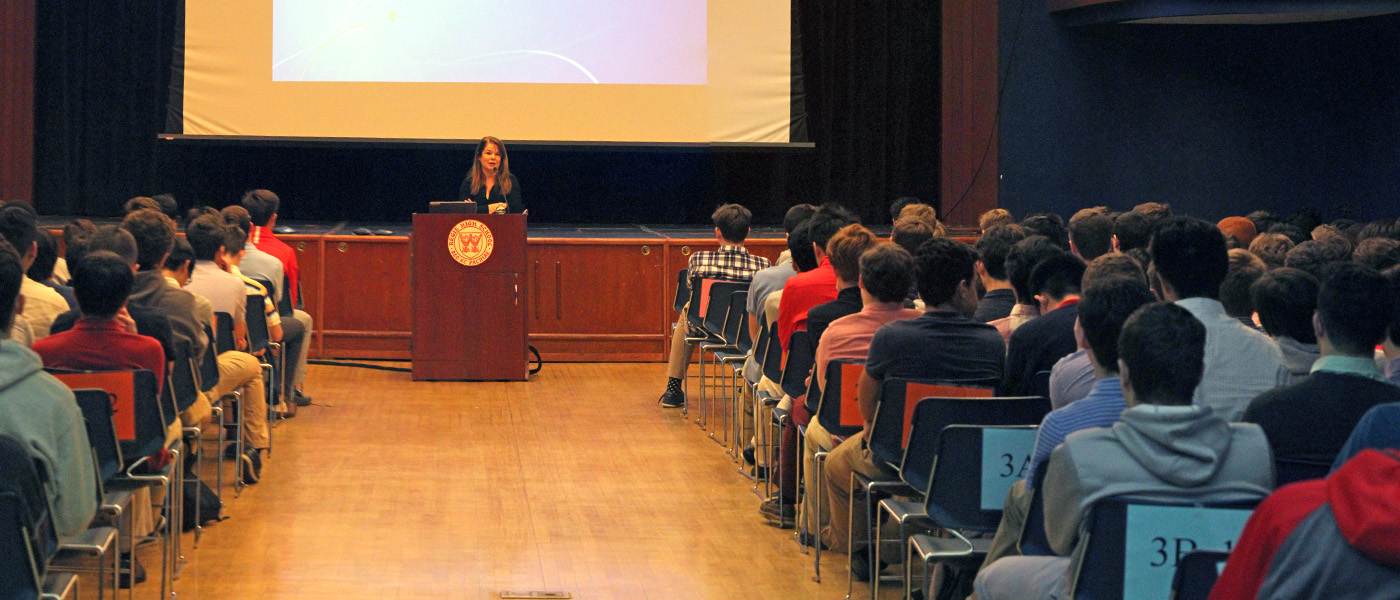 The Monday assembly before Thanksgiving saw the Regis community take its first big step toward "Unpacking Poverty in America," the focus of this year's expanded John Francis Regis Day. The school welcomed the President and CEO of Coalition for the Homeless, Mary Brosnahan, who spoke on her experience addressing the issue of inadequate housing in New York City. Each day the Coalition serves and advocates for over 3,500 New Yorkers in need of stable and affordable housing. Over Ms. Brosnahan's almost three-decade-long tenure, the organization has grown considerably in size (11 staff members to 80) and budget ($1 million to $11.6 million).
So, unfortunately, have the challenges they face. Before Ms. Brosnahan's presentation, the students reflected on a slideshow detailing the history and current state of homelessness in New York. The current population of New Yorkers without a home numbers somewhere around 70,000—though this count does not include "couch surfers" or, more importantly, the many families forced to spend 65% of their income or more on rent. The national average, in contrast, falls around 30 percent.
Though these facts help to open eyes to the reality of poverty, the eye of first-hand experience tells the more human truth. In her introduction for Ms. Brosnahan, chair of the JFR Day Design Team Carol Remsen reminded the assembly of the hope that this year's dialogue would "deepen our compassion and inspire a shift from empathy to action." Brosnahan shared some of the trauma and transformation she had witnessed over her time working with the Coalition. One story was that of a woman with significant mental illness. When the Coalition helped to place her in an apartment, she had been living in a tent for so long that she felt nervous sleeping anywhere else. So they set up a tent in her living room, patiently continuing with her down a road that would eventually lead to stable employment and successful treatment.
"We chose the word 'unpacking' because we appreciated how complicated the topic of poverty is and that each of us may define it differently," Ms. Remsen shared regarding this year's theme. In recognition of that complexity, several more talks and reflections are in the works. In both September and October Regians used advisement periods to discuss different aspects of modern poverty, and various other activities will take place in the coming months.
At least two more major guests will visit Regis to share their personal experiences. Sr. Simone Campbell (Executive Director of NETWORK Lobby for Catholic Social Justice) will speak about her work on February 28, 2018. The keynote speaker for John Francis Regis Day (May 16, 2018) will be Fr. Greg Boyle, SJ, the founder of Homeboy Industries. Regis is always happy to make room for other lectures and discussions. If you have some area of expertise or experience that you would like to share with the community, please contact communications@regis.org.
Posted: 12/6/17