New Experiences at Inaugural Grandparents Day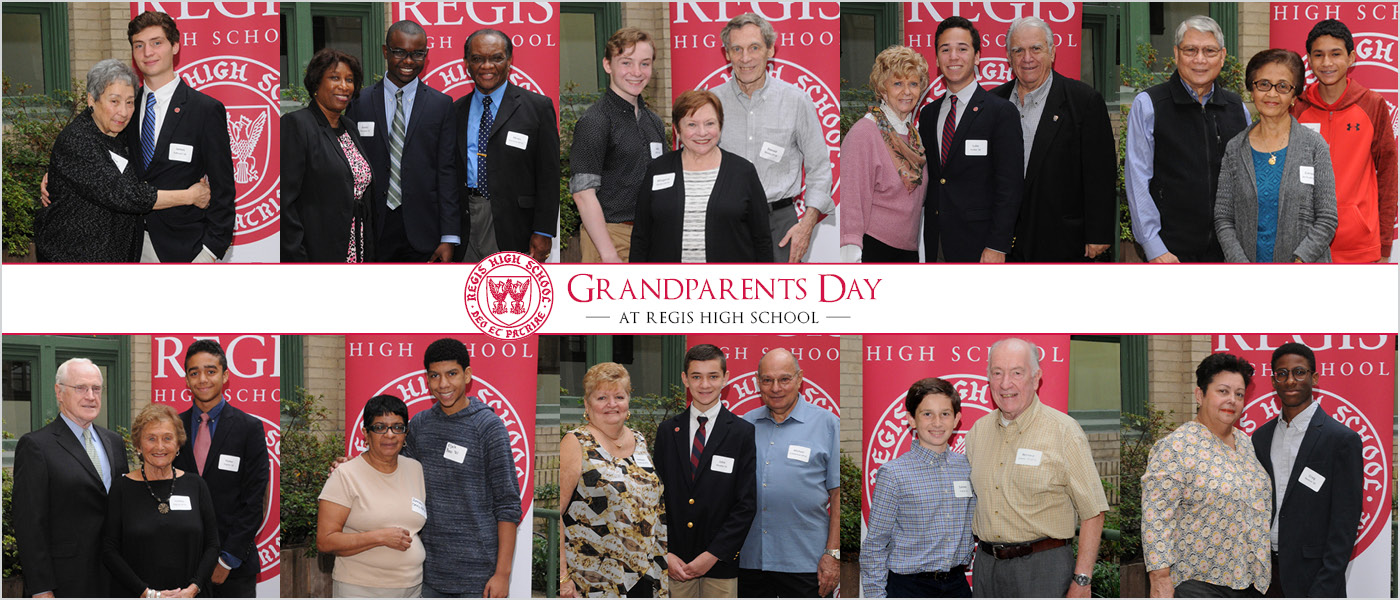 On an unseasonably warm and sunny October 15, Regis High School welcomed students and their grandparents to the first annual Grandparents Day. Roughly 100 students and approximately 200 grandparents participated in the inaugural event.
The afternoon at Regis commenced at 2:00 p.m. when guests began arriving at the student entrance on 85th Street. After a quick photo to commemorate the day together, students gave their grandparents personal tours of the school, showcasing the study spaces most familiar and most important to them.
At 3:00 p.m., all guests gathered in the newly renovated cafeteria to celebrate Mass together. Fr. Lahart celebrated the Mass and Fr. Bender '67 joined him. Immediately following Mass, students and grandparents shared boxed lunch meals.
Prior to the start of the reception, Dr. Gary Tocchet, Principal, addressed the families gathered. In his brief remarks, he shared that he just became a grandparent a mere six weeks ago, with the birth of his granddaughter.
"I can fully appreciate the pride, love, and joy that all the grandparents in the room are feeling," said Tocchet, who asked the boys to stand and give their grandparents a round of applause in appreciation for their love and support.
Brady Marzen '18 attended with his grandmother, and noted that she was very impressed by how spacious the building felt given its location in a cramped city. He noted that, "she also thought that Dr. Tocchet and Fr. Lahart came across as very nice men."
James Cobourn '18, also attending with his grandmother, noted that, "my grandfather (James Muller '47 †) was part of the class of 1947, so it meant a lot to my grandmother to see his alma mater, especially given how much credit he gave to Regis for his character and maturation. What seemed to me like a simple stroll around the fourth floor and a small Mass in the cafeteria, was a powerful and noteworthy experience for her."
For many grandparents, this event marked a first visit to Regis. For a few others, the visit might not have been a first, but it was nonetheless unique. This was certainly the case for Bernie Tracey '51 GP'21, whose grandson, Eamon, is a freshman.
"Through the years I've made many visits to Regis. However, touring the school with my grandson, and seeing Regis from his perspective, was enlightening, extremely rewarding, and enriching," said Tracey. "Grandparents Day brought me back to seventy years ago when I was a freshman. Being there with my grandson rekindled my own high school memories much more vividly that any previous visits."
"I was very impressed with the science labs, the resource centers, and how effectively all the space is utilized at Regis," he added. "A classmate of mine told me that he is jealous of the kids now going to Regis. I agree with him."
Regis welcomes grandparents of all students and alumni to stay connected. If you would like to receive our quarterly magazine, event invitations, and other communications, contact communications@regis.org or call (212) 288-1142.
Above: Students and their grandparents gathered in the cafeteria to celebrate Mass together.
Posted: 11/4/17