Food, Faith, and Family: An Evening With Lidia Bastianich GP'17

Join members of the Regis community on March 14 for an evening of Food, Faith & Family with Lidia Bastianich GP'17. Fr. Chuck Frederico, SJ, Provincial Assistant for Vocation Ministry for the Maryland & USA Northeast Province, will lead a discussion with Bastianich, an award-winning television host, best-selling cookbook author, restaurateur, and owner of a flourishing food and entertainment business. A book signing will immediately follow the talk.
Event Details:
Tuesday, March 14 | 6:00 p.m. to 9:00 p.m.
$20 per person (Register here)
Light hors d'oeuvres and refreshments
For media inquiries, contact Thomas A. Hein '99, Director of Communications, at (646) 657-2091
(Almost sold out! Space is limited.)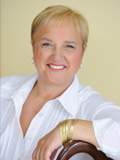 Lidia Bastianich GP'17 is an Emmy award-winning public television host and a best-selling cookbook author. She is the chef/owner of four acclaimed New York City restaurants—Felidia, Becco, Esca and Del Posto, as well as Lidia's Pittsburgh and Lidia's Kansas City along with her daughter Tanya P'17. Along with her son, Joe Bastianich, Mario Batali, and Oscar Farinetti, the team opened Eataly, the largest artisanal Italian food and wine marketplace, in the Flatiron District of New York City and at the World Trade Center in New York City. She also opened Eataly marketplaces in Chicago, Sao Paolo, and Boston, with one in Los Angeles scheduled to open in 2017 and another in Toronto scheduled for 2018. She is the founder and president of Tavola Productions, an entertainment company that produces high quality broadcast productions. Lidia also has a line of pastas and all natural sauces called LIDIA'S.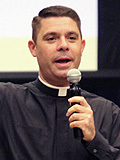 Fr. Chuck Frederico, SJ attended the Culinary Institute of America, earning an A.O.S. in occupational studies (Culinary Arts) in 1991. He worked as a sous-chef and as a maître d' at several fine restaurants in the Philadelphia Metropolitan Area while attending Saint Joseph's University there. He graduated in 1995 with a bachelor of science degree in food marketing. He likes to tell people he met the Jesuits in the spirit at the C.I.A. (the old St. Andrew on Hudson Novitiate, now the Culinary Institute of America) and in person at St. Joe's. Fr. Frederico entered the Society in August 1995, at the new St. Andrew Hall in Syracuse, NY. He studied for a Master's in philosophy and theology at Fordham University and received his M.Div. from the Jesuit School of Theology at Berkeley, CA. On June 10, 2006 Fr. Chuck Frederico, SJ was ordained at the Fordham University Chapel by his Eminence Edward Cardinal Eagan, Archbishop of New York. From July of 2006 to July of 2009, Fr. Frederico worked in Campus Ministry at Loyola University Maryland and served as a resident chaplain, where he was much admired for his fine Italian cuisine. Father Frederico began his role as the Provincial Assistant for Vocation Ministry for the Maryland & USA Northeast Province in 2009.
Posted: 2/12/17