Mass of the Holy Spirit and Missioning of the 23rd President to be Televised and Viewable Online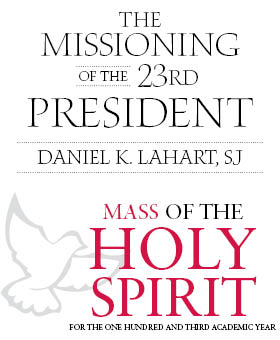 On Friday, September 9, the Very Rev. John J. Cecero, SJ, Provincial of the USA Northeast Province of the Society of Jesus, will serve as Principal Celebrant at the Mass of the Holy Spirit for Regis High School's one hundred third academic year. The Mass will include the Missioning of our 23rd President, Rev. Daniel K. Lahart, SJ.
Friends of Regis are welcome to watch a broadcast of the Mass on Saturday, September 10 at 4:00 p.m. EST on Telecare TV.
Telecare is available for viewing on the following channels:
Channel 471 on Time Warner Cable
(Everywhere local, except parts of Manhattan)
Channel 106 on Time Warner Cable
(Parts of Manhattan)
Channel 296 on Verizon FIOS
Channel 137 on Optimum/Cablevision
(Everywhere local, except Long Island)
Channel 29 on Optimum/Cablevision
(Long Island only)
Streaming worldwide at telecaretv.org
Posted: 9/9/16