Celebrating Generous Lives:
Building Character Through Service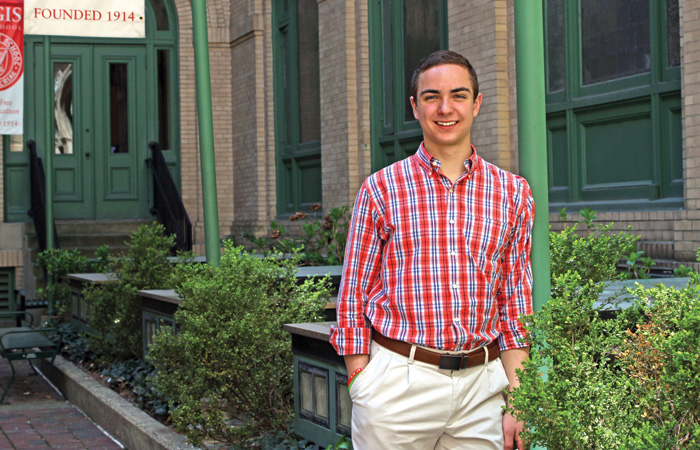 For Jack Aiello '16, senior year is concluding much like his freshman year began: with a desire to do more for others. Perhaps that's not surprising for the soon-to-be graduate, who has spent the past four years immersing himself in practically every service opportunity presented to him.
Aiello hails from Northport, Long Island where he is a member of St. Phillip Neri parish. He describes the area as "a quirky town, with a great culture of community engagement and charity, filled with kind and exciting people." A life-long Boy Scout, Aiello seized on that hometown culture as motivation for his Eagle Scout project, where he worked with local veteran organizations, the town government, community youth sports clubs, and local businesses to fund and construct a flagpole and memorial area for America's veterans in a local Veterans Memorial Park.
That hometown culture was also surely an influence on the three Northport natives who founded the St. Baldrick's Foundation in 2005, a charity to which Aiello has devoted enormous time and energy. As the world's largest private funder of childhood cancer research, the Foundation gives hope to those suffering cancer by leading participants to "brave the shave" and give up their own hair in unity with those who have no choice but to surrender such a luxury. For Aiello, "the simple act of shaving your hair in solidarity with children suffering from cancer is both humbling and empowering."
While the Foundation's annual event has always been wildly popular in Northport, it took on a whole new significance for Aiello when his best friend was diagnosed with Leukemia in 2008. She won her battle, but her long, terrifying fight opened Aiello's eyes to real pain and suffering. "When I witnessed how much strength St. Baldrick's gave her each year, I promised to always keep the Foundation in my life."
That spirit stuck with Aiello, and it remained with him as he began his Regis career. During his sophomore year, he started the St. Baldrick's Committee in Catalyst (Regis's Christian Service club) and recruited a team of friends who would help plan, organize, and run the event from start to finish. Over the course of three successful events at Regis, Aiello is responsible for having raised thousands of dollars for childhood cancer research, and for having numerous students and faculty volunteer to have their heads shaved. Aiello describes his work with the St. Baldrick's Foundation at Regis as "some of the most rewarding work that I've done in my four years."
Despite his two hour commute to and from Regis each day, Aiello has managed to balance four years of academics with a full plate of extracurriculars, which has included participation as a member of the Hesperia Italian Culture Club, a peer math tutor, an Emmaus retreat leader, and a member of the Hearn. "Debating for the Hearn has provided me with additional opportunities to research seriously and think critically about the world's larger issues—from food security to peacekeeping operations," added Aiello.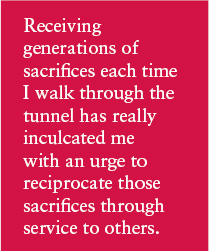 Despite a diverse slate of student club memberships, Aiello's devotion to Catalyst and service at Regis nonetheless stands out prominently. He joined the club freshman year, as he says he was "drawn to both the commitment to service which defined the club, as well as the strong student leadership who drove that commitment." Within the club, he has been a leader for a variety of service activities, ranging from bake sales to fundraisers for St. Al's School for AIDS orphans in Kibera to sorting clothes and supplies for Midnight Runs.
Aiello's service initiatives throughout his Regis career have extended well beyond programs at Regis alone. He is most involved with his local Boy Scout troop, through which he has contributed to numerous efforts to serve his local community. He has spent his summers as a counselor at a sleep-away camp for juvenile diabetics, a disease with which he himself lives. He spent a summer interning for a local congressman, and last year was chosen by his town as a delegate to the thousand-member New York Boys State. While participating in the program, Aiello was also selected by a panel of American Legionnaires and U.S. Marines as one of New York's two delegates to Boys Nation in Washington, D.C. where he met numerous government leaders, including President Obama.
"Boys Nation gave me a firsthand glimpse of American democracy. Seeing how the other delegates so thoroughly enjoyed being surrounded by intelligent, talented, and integral peers really made me appreciate how Regis puts me in that environment every single day and how wonderful it is for Regians to be able to challenge and inspire each other to be our best selves," added Aiello.
Even with the busyness of senior year, Aiello has remained active in many of the service operations taking place within the walls of Regis this year: from the monthly sandwich-making gatherings which serve New York Common Pantry, to Adopt-A-Family gift-wrapping initiatives, to staging Midnight Runs for the homeless. "My peers and the upperclassmen who were involved in Catalyst are exceptionally compassionate and devoted to the people they serve, and I think Regis is unique in that the largest student run activity is devoted solely to the service of others," said Aiello.
These days, Aiello can be found performing full-time service through the senior third trimester service program. He splits his days between Mt. Sinai Hospital, where he attends to patients and visitors, and Our Lady Queen of Angels School in Harlem, where he assists 6th, 7th, and 8th graders with their Math and English studies.
"Every day at Regis is a gift," said Aiello. "A gift from the Foundress, a gift from teachers and administrators, and a gift from thousands of donors and individuals who give part of themselves to Regis. Receiving generations of sacrifices each time I walk through the tunnel has really inculcated me with an urge to reciprocate those sacrifices through service to others."
Aiello will continue his education at Princeton University next year where he is interested in focusing his studies on public and international affairs. While still considering a gap year of service in a developing country in the short term, Aiello has also thought about long term goals, and says he "would love to make a career out of working with NGOs or governmental organizations to improve the lives of the world's poor."
While speaking about his faith, Aiello notes that—just as he feels endless gratitude towards Regis—he is even more thankful for all the blessings God has given him through others. Aiello emanates a sense of obligation to continue that cycle of service. "If the next world is one of paradise," said Aiello, "I can think of few better ways to spend the interim than trying to alleviate the suffering of others."
Posted: 5/4/16