Regians Compete in FIRST Tech Challenge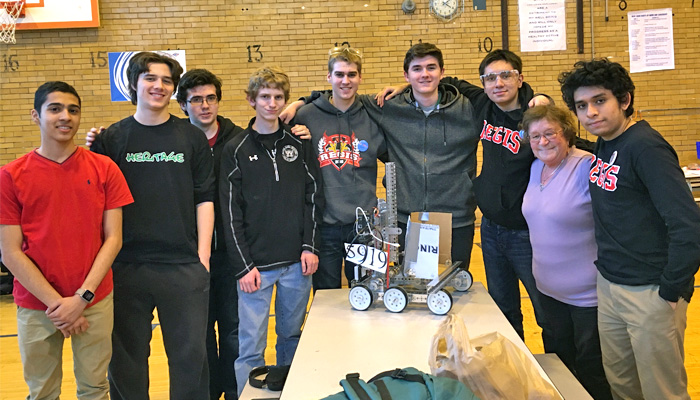 The Regis Computer Club participating in the 2016 FIRST Tech Challenge. Picgured: Jason Kurian '17, Nick Cimaszewski '17, Michael Cosgrove '17, Stephen Utley '16, Chris Hayden '16, John Schlatter '16, Fernando Garcia-Toro '16, Ms. Caroline Christie, and Carlos Lopez '17 (not pictured: Matt Kanovsky '16 and Gianluca Rago '17)
On February 6, the Regis Computer Club competed in the FIRST Tech Challenge. FIRST (For the Inspiration and Recognition of Science and Technology) is a technology competition designed to have students compete head-to-head in designing, building, and programing robots. The goal is to help students better understand, use, and enjoy science and technology.
This year's competition, Res-Q, required teams to construct a robot that could accomplish specific mountain rescue themed tasks, including moving debris around a playing field, driving up and parking on a ramp, and dumping debris into buckets located on raised inclines. Under the guidance of club moderator Ms. Caroline Christie, the Regis team began collaborating early in September, adopting engineering mindsets in brainstorming designs and developing strategies for what would prove to be a challenging project.
"After much diagramming, revision, and testing, the team settled on a rack and pinion based linear lift design," said Christopger Hayden '16. "The linear lift would lower and raise a rotate-able collection basket that would carry debris across the playing field and ultimately dump it into one of the inclined buckets."
The ensuing few months were spent building and programming the robot. The team encountered a few curve-balls while preparing for the competition.
"The night before, we had a last minute wiring and programming issue that threatened to undo the months of hard work in building the robot," said Hayden. "We met early the next morning to troubleshoot before the competition began. A testament to the friendly and collaborative spirit of the FIRST Tech Challenge, Regis's rookie team gained assistance from veteran teams more familiar with FIRST's new wiring configurations and Java based system. The robot soon sprang to life, greeted by cheers from everyone."
Only teams that produced working robots earned a spot in the competition round, and the Regis team was proud be one of those participants. While they did not win the competition, the team's experience validated the many hours working to create a functioning robot, and it enhanced their appreciation of science and technology. The team looks forward to building on this year's progress, and club members hope to offer instruction in Arduino and iOS development to interested Regians.
Posted: 4/18/16