Sophomore Athletes Lay Groundwork for Continued Success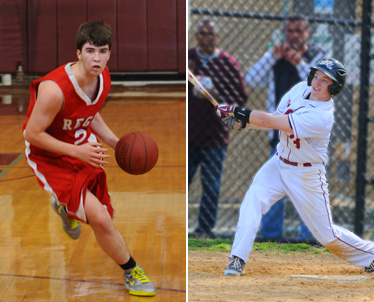 Two Regis sophomores have been named as rising sports stars in a "Top 10" list published by DNAinfo on May 13. Charles Gavigan '15 was selected for the integral role he plays on the Varsity Basketball team. During the 2012-13 Basketball season, Matt Stranzo '15 and Liam Hogan '15 joined Gavigan as 3 standout sophomores who earned positions on the Varsity Basketball roster.
For both the offensive and defensive production he provides the Varsity Baseball team, sophomore Evan Nagel '15 was also selected to the list of "Top 10 Rising Sports Stars". Nagel is joined by Ronny Zampolin '15 as the 2 sophomores included on the 2013 Regis Varsity Baseball team roster.
Click here to read the full DNAinfo article titled, "Meet Manhattan's Rising High School Sports Stars".
In other Regis sports news, Sean Phillips '15 earned a first place medal in a thrilling performance in the Sophomore 1600 meter run this past Saturday during the CHSAA Sophomore Championships at Icahn Stadium. The race concluded with Phillips flying around the final turn at an unprecedented speed, taking the lead just a few strides away from the finish line. His time of 4:26.68 is a new Intersectional Meet record, and his performance earned him the title of Intersectional 1600 Sophomore Champion. Phillips already owns the Regis High School Sophomore record for the 1600 with a time of 4:25.31.
A video of the race's exciting finish can be viewed using the link below. The video begins at the 4:15 mark, where Phillips is completing the turn into his sprint to the finish line: https://www.youtube.com/watch?v=Qs_fMDPgG-c&t=4m15s
Posted: 5/15/13