Two Regis Alumni Pen Highly Anticipated Books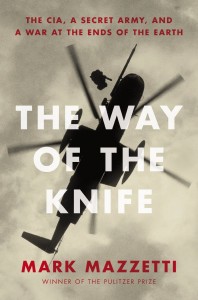 Regis alumni have authored very successful books in the past, and there is no indication that this trend is slowing down. Earlier this week, two Regis alumni made headlines for new books they have penned. "
The Way of the Knife: The CIA, a Secret Army, and a War at the Ends of the Earth
" by Mark Mazzetti '92 was released on April 9. Just this week, Matthew Thomas '93 signed an advance in excess of $1 Million for his novel, "
We Are Not Ourselves
", with a publication date expected in 2014.
Mazzetti, a Pulitzer Prize-winning reporter, currently serves as the national security correspondent for the Washington bureau of The New York Times. His book explores how the CIA's role has changed since September 11, 2001. In it, Mazzetti tracks how the CIA, originally charged with gathering foreign intelligence, has evolved into an agency primarily focused on hunting terrorists. As described in an April 5 book review published by The Washington Post, Mazzetti "documents the militarization of the CIA, and the stepped-up intelligence focus of Special Operations forces." The 381 page book is published by Penguin Press.
Thomas, a former English teacher at Regis and a current member of the English department faculty at Xavier High School in Manhattan, spent the last 10 years completing his now highly-anticipated novel. Simon & Schuster just recently acquired the North American rights to the book. The publishing firm describes the novel, set in the second half of the 20th century, as "a sprawling portrait of the Irish-American Leary family—Ed, Eileen, and their son Connell—as they move from Jackson Heights, Queens to Bronxville, New York in pursuit of the American dream. Eileen's unblinking determination to better the family's status is challenged by her husband's dedication to teaching—and ultimately, devastatingly, by a diagnosis of early-onset Alzheimer's." WME Literary Agent Bill Clegg calls Thomas "one of the nicest, most humble guys ever. Sometimes the good guys win."
The Washington Post book review of "The Way of the Knife: The CIA, a Secret Army, and a War at the Ends of the Earth" written by Mark Mazzetti '92 can be read here. An interview with Mazzetti, conducted by Radio Free Europe Radio Liberty, can be read here.
For the Atlantic Wire's article on Matthew Thomas '93 titled "The High School English Teacher Who Sold His Debut Novel for a $1 Million", click here. Reviews of Thomas's debut at the London Book Fair can be read here.
Posted: 4/18/13