REACH Program Recruiting Collegians for Summer Employment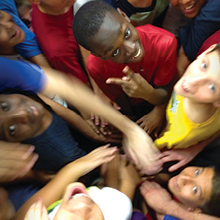 REACH is seeking interested college students for employment in Camp REACH, its 3-week summer residential component. Collegians serve as student dorm prefects, advisement group supervisors, study skills teachers, academic advisors, and recreation and activity directors. Camp REACH is held at the University of Scranton and runs from July 5 – July 25. Collegians must also be available for meetings on 6/4, 6/8, 6/25, 6/27.
"Collegians are enormously important to the successful functioning of REACH on multiple levels," said Todd Austin, Director of the REACH Program. "Logistically, each Collegian supervises a group of REACH students, guiding them through the various events of their daily schedules. As a role model, the Collegian is the person with the greatest personal contact with REACH students and exerts the most direct influence on the students in his charge. He serves as a central link between the students and the REACH Director, Assistant Director, Deans and Faculty. The position, therefore, requires a great deal of personal responsibility and commitment to the mission of the program. Serving in this role is an excellent way to give back to Regis and REACH communities."
For three weeks of work, Collegians receive a $1,350 stipend. Additionally, Collegians are provided with room and board at no cost, as well as round trip transportation between New York City and Scranton. Three of ten positions remain open. Applications will be accepted through May 9. For application materials please contact Mr. Austin at taustin@regis.org or visit the REACH Employment page.
Posted: 4/25/14