Successful Close to Indoor Track & Field Season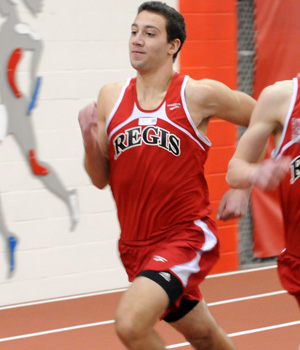 The Regis Indoor Track & Field season came to a close last month at the New Balance National Indoor High School Championships, held at the Armory in New York City.
The Regis Varsity team concluded the season with excellent relay performances. The Sprint Medley Relay team of Harry Aquino, Drew Kiley, Joe Ertl, and Tim McMullen ran a competitive race, with McMullen anchoring in an 800m personal record.
(Pictured: Senior Harry Aquino '14 participating in an indoor track meet earlier this season. Photo courtesy Harisch Studios.)
In the 4x800, the team once again came in less than two seconds of breaking the indoor school record. On the leadoff leg, Sean Phillips was boxed out in the opening lap but worked hard on the outside to get free and managed a sub-2:00 leg. Brian Dobkowski, Arthur Calcagnini, & Drew Kiley picked up the pace, all running personal bests to give Regis a fine finish of 8:03.3. That time was again an impressive run, coming within 1.8 seconds of the school indoor record.
The team finished the day 11th out of 34 schools from around the country, and boasted the best performance by a Catholic School in the Tournament.
The 2014 season was one that included many other highlights as well. Of all the great milers Regis has put on the track, it was this year that Sean Phillips '15 emerged as the fastest of all. On February 9, Phillips ran a stunning 4:20 at the CHSAA Intersectional Championships 1600-meter run, finishing third and establishing himself as the Regis High School record holder—a record previously held by older brother Ryan '12, now a standout athlete at Davidson College. But he wasn't done. At the Eastern States meet later that year Phillips ran 1:57 on a 4x800-meter leg, also a school record.
The team ran its best time in over a decade with a thrilling finish at the world-famous Millrose Games on February 15. Nearly 100 students, family and alumni (including members of the 1980 squad) came out to cheer on the Raiders to a superlative time of 8:02.94 in the CHSAA 4x800, which is now the fastest Regis time ever recorded at Millrose.
The fine coaching of Lee Chua, Chris Febles, and John Donodeo helped cap off this very successful year. The student athletes and coaches now begin preparing for the outdoor track and field season, which begins on March 30 at the CHSAA Relay Carnival, held at Icahn Stadium on Randall's Island.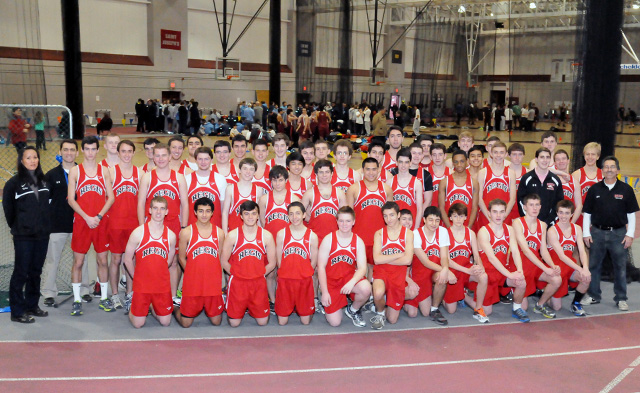 Above: A photo of the 2014 Indoor Track and Field Team. Photo courtesy Harisch Studios.
Posted: 4/1/14