Watch Today's State Championship Game LIVE | March 15, 2014
The Regis Varsity Basketball CHSAA B-Division City Champions will play today for the CHSAA State Championship. This will be the first opportunity for Regis to compete for the State Championship since 2005, when Regis defeated Niagara Catholic to earn the school's last State Title.
In this afternoon's State Championship game, Regis will face Saint Mary's of Lancaster, NY. The game will take place in the Fordham University Rose Hill Gym (Bronx, NY) at 2pm. Tickets are $10 each and can be purchased at the door. If you are unable to come out and support the team, you can stream the game live on MSG Varsity by finding the game listing on the following MSG Varsity link: https://www.msgvarsity.com/live-schedule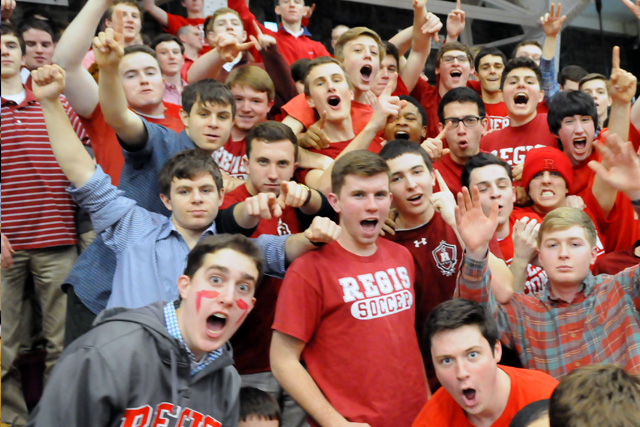 Above: Regis student fans packed the bleachers behind the Regis bench during the City Championship this past Monday. Photo courtesy Harisch Studios.
Posted: 3/15/14