Regis to Face Sacred Heart in Monday's CHSAA B-Division City Basketball Championship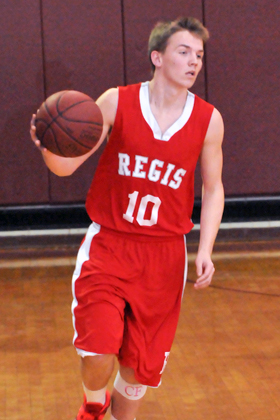 On Monday, March 10 the Regis Varsity Basketball team takes on Sacred Heart in the CHSAA B-Division City Championship. The game will take place at the Fordham University Rose Hill Gym (Bronx, NY) at 5:30pm. A contingent of Regis students, parents, and alumni will be in attendance to cheer on Regis as they compete for a Centennial year championship.
The team's journey to the championship game has been an impressive one. "We started the year strong but hit rough patch in the middle of the season," said Charles Gavigan '15. "We've really pulled it together though here at the end, and are playing the best we've played all year going into this game."
On February 23, the team defeated Lasalle decisively in the division quarterfinals with a 84-64 win. Then, on March 3, Regis narrowly defeated Salesian 64-59 in a tightly contested semifinal matchup.
For Gavigan, playing for a championship title in the Centennial year makes this season extra special. "It really does mean something special this year. After 100 years, we can show that Regis is still at the top of its game, both academically and athletically." Gavigan added, "The team has been working hard to win the first city championship in almost 10 years."
Gavigan's statement references the last time Regis won a division championship game, which took place in 2005. Back then, Regis defeated Salesian in the city championship to earn a spot in the state Catholic championship game against Niagara Catholic. The 2005 Regis team went on to with the Federation State title in a game which Coach Kevin Cullen refers to as one of the most thrilling in his tenure as Varsity Basketball Head Coach.
Cullen, in his 13th year coaching the Varsity squad, hasn't lost sight of the significance of making it to the championship game in the Centennial year. "It's a great feeling. Regis has such a rich history not only in academics but also in athletics." He added, "All the credit getting to this championship game goes to the kids. It's just so special to do it this year."
Tip-off for the B-Division Championship at the Fordham University Rose Hill Gym is scheduled for 5:30pm. Game tickets can be purchased at the door for $10 each. Those unable to make the game can stream it live on MSG Varsity at https://www.msgvarsity.com/live-schedule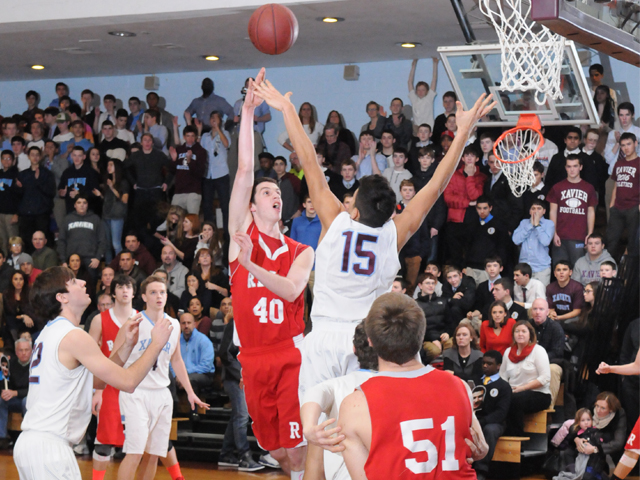 Above: Luke Passannante '14 puts up a hook shot in a game earlier this year at Xavier High School.
Posted: 3/6/14