Regis Holds 105th Graduation Exercises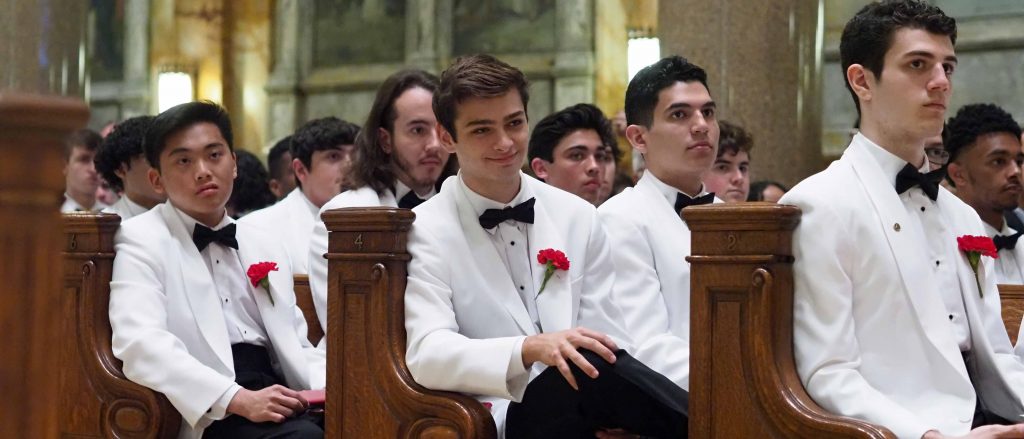 On a beautiful June 4th morning surrounded by family, friends, teachers, staff, and alumni, 136 noble hearts donned their white dinner jackets and received their Regis High School diplomas. Gathering at the Church of St. Ignatius Loyola, the members of the Class of 2022 were celebrated for their hard work and accomplishments over the past four years, and were formally sent off beyond 84th St as true Men for Others.

The ceremony began with an invocation from Fr. James Ferus, SJ, the Director of Mission and Identity. "We gather in a spirit of hope, desiring that the lessons learned at Regis may not only endure but catalyze deeper engagement with your world in need throughout our lives," Fr. Ferus said.
In keeping with Regis tradition, a member of the senior class, Benjamin Kaiserman '22, was chosen by his peers to offer remarks.

"The crux of the matter is that we've had an opportunity to spend four years of our lives in a community where someone reaches out their hand when we cry for help. I urge you to remember this, because as we move forward, we will encounter new realities, many of which may be far more complex and unfeeling than the one we've left behind," Kaiserman said. "If there's anything we've learned from these past few years, and especially from these past few weeks, it's that the world is messy and often far too harsh. That said, it will be our responsibility to offer our hands. Wherever you find yourself, seek out the troubled waters. Keep your hands ready, and your fingers primed. Use what you have been given to extinguish the doubts of the world, the doubts we had felt not so long ago. Let us be the hand. Let us love others. And may God bless our noble hearts." Kaiserman's full remarks can be read here.
Board of Trustees Chair Tony DiNovi '80 congratulated the newest graduates of Regis and paid tribute to two leaders who will leave the school at the end of the month: Principal Fr. Anthony D. Andreassi, CO, and Interim President Christian Talbot '93.

"Fr. Andreassi stepped in as interim principal when needed, stayed in that position when asked despite the duty call of his parish in Brooklyn," DiNovi said. "Anthony, we thank you for your impact that you've had on our students and our faculty. "
DiNovi went on to praise Talbot for his masterful guidance of Regis over the past 14 months. "In a crisis, when we needed him, Christian put aside his consulting business and stepped in as interim president. But his commitment to the job and our mission has been anything but interim. He has been relentless in his pursuit of excellence when coasting would have been very easy and understandable."
Talbot welcomed the Class of 2022 to the ranks of Regis alumni and assured them that the lessons of the past four years would remain inside them throughout their lives.
"With this graduation, we — the trustees, the faculty, the staff, your parents, the almost 500-year legacy of Jesuit education — are commissioning you to go forth and set the world on fire, to contribute your talents to the common good, to — to borrow from Fr. Ferus' opening prayer — be witnesses and evangelists for the Gospel and the kingdom of God."
Graduation exercises concluded with a beautiful benediction offered by Admissions Officer Mrs. Mary Henninger P'93'98.
"May God bless you with discomfort at easy answers, half-truths, and superficial relationships so that you will live deep within your heart," Mrs. Henninger prayed. "May God bless you with anger at injustice, oppression, and exploitation of people so that you will work for justice, equality. and peace. May God also bless you with tears to shed for those who suffer from pain, rejection, and violence so that you will reach out your hand to comfort them and change their pain into relief and perhaps to joy. And may God bless you with the foolishness to think that you can make a difference in the world so that you will do the things which others may tell you cannot be done."
Please see below for a full recording and photos from Saturday's graduation. Congratulations to the 105th graduating class of Regis High School!
Some photos below courtesy of Kai-Shan Kwek-Rupp '24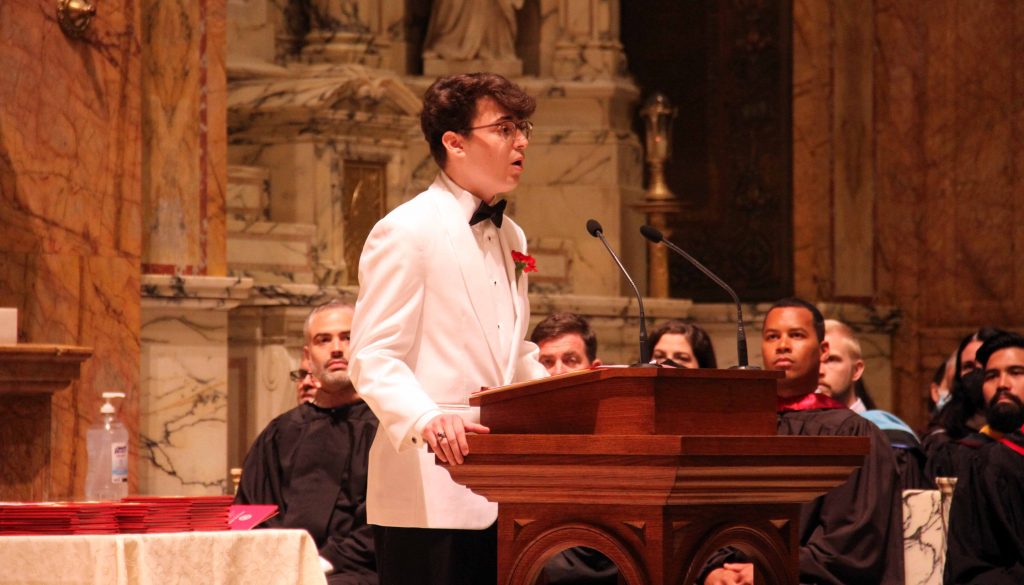 Posted: 6/4/22