The REACH Difference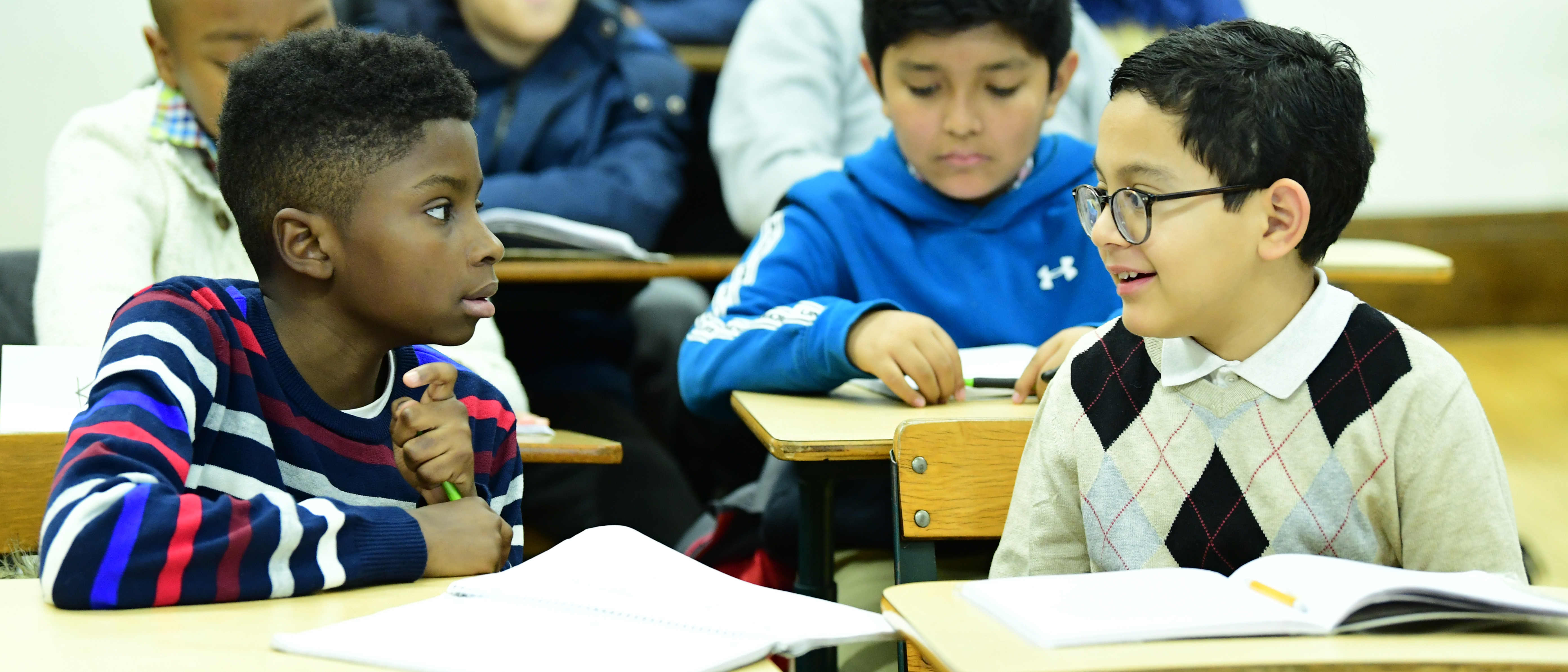 For 18 years and counting, the growing REACH Program has opened doors and changed trajectories for Catholic boys from New York families with financial need.
"What do you hope to get out of this program?"
Pedro Polanco '13 searched for an answer. Days earlier, he had boarded a bus filled with unfamiliar faces and traveled from Manhattan to the University of Scranton, where he would be spending the next three weeks as a new student in the REACH Program. Now, away from his family for the first extended period of his life, the 11-year-old Bronx native had to articulate  why, exactly, he had come to this faraway place.
Polanco finally settled on his response. His goal for the REACH Program, he decided, was to learn to write with his left hand.
"Clearly I didn't even fully understand what the program was about or what it really could give me," he says.
Looking back 14 years later, Polanco says that REACH gave him quite a lot. After three summers in Scranton and at Regis High School coupled with dozens of Saturdays taking classes while many children his age played sports or watched television, Polanco was admitted to Regis, where he thrived academically. He went on to study Mechanical Engineering at the Massachusetts Institute of Technology, and he now works as a senior strategy consultant at Accenture in Chicago.
Polanco's journey is inspiring but not uncommon. Since its founding in 2002, REACH (Recruiting Excellence in Academics for Catholic High Schools) has welcomed hundreds of middle school-aged Catholic boys from low-income backgrounds and helped prepare them to earn scholarships to New York City's Jesuit high schools (Regis, Cristo Rey New York High School, Fordham Preparatory School, Loyola School, and Xavier High School) and other top high schools. Roughly 75 percent of REACH students today come from families who earn less than $60,000 per year, and roughly 80 percent of students have at least one parent who was born outside of the United States. REACH alumni, from those currently in college to members of the original class, speak glowingly of the program's impact on them.
REACH's success is inarguable yet remarkable. As concrete solutions to educational inequity continue to prove difficult to identify, the REACH model works — as demonstrated both by the impressive improvements in REACH student's standardized test scores and the many amazing success stories of REACH alumni. The program's effectiveness comes from a special combination of academic rigor, leadership development, and spiritual formation along with a basic structure that has stood the test of time. And with a newly expanded enrollment and a growing team of dedicated administrators, REACH's impact should only increase in the years ahead.
That first bus ride that Polanco took to Scranton is a moment that comes up repeatedly when alumni reminisce about their time in REACH. Having just completed 5th grade, new REACH students are not eased into the program; their first experience with REACH involves leaving their family, often for the first time, to spend three weeks on a college campus. (Starting in 2017, when the program began its recent expansion, REACH students now spend their first summer at Fordham University and Fordham Prep, while second- and third-year students are in Scranton.) Fr. Christopher Devron, S.J., REACH's founding director, intentionally designed the program to begin with an all-encompassing, residential experience.
"I believed that if we took students out of their environment and created our own environment that would simulate what it's like to be at Regis or one of our other Jesuit high schools, then we could begin to help students develop the habits needed in order to succeed academically and socially and even spiritually," he said.
Fr. Devron, who has served as the President of Fordham Prep since 2013, arrived at Regis in 2001 with instructions to launch the program that would become REACH. Over the previous several decades, the socioeconomic status of much of the Catholic population in New York had gradually improved, and Regis administrators wanted to ensure that the school lived up to its founding mission and continued to attract and serve talented students from low-income Catholic families.
The basic structure that Fr. Devron and his colleagues implemented has largely remained in place. REACH students, who are chosen through a rigorous admissions process modeled on Regis' own, spend three weeks each summer at Scranton or Fordham and then three weeks commuting to Regis each weekday. During the school year, these students, who are in 6th, 7th, and 8th grades, attend classes most Saturdays  at Regis.
The REACH curriculum focuses heavily on Mathematics and English Language Arts, the two subjects most critical for preparing students to gain admittance to and succeed at top high schools. Throughout the summer sessions and during the school year, all REACH students take classes in these subjects, and the REACH staff includes a full-time academic dean for both Mathematics and English Language Arts. The goal in both subjects is to both reinforce critical skills and lessons the students learn in their grammar schools and introduce new concepts that will be critical to their success moving forward. Students also take classes in Robotics, Coding, and Public Speaking on Saturdays during the school year, and Latin and Civics courses are added in the summer.
"We are explicitly not trying to cover everything that is in the New York State curriculum for grades 6, 7, and 8," says Doug Eickman '05, who became the Director of the REACH Program in 2019 after spending the previous nine years as its Dean for Mathematics. "We are focusing on what we think are the core skills that will be essential on the high school level."
In addition to the excellent faculty, the high caliber of the students in the program promotes learning and hard work, according to several REACH alumni. Being in an environment filled with fellow students who are self-motivated and care about their grades isn't always the norm at their schools.
Serge Efap, who graduated with REACH's second class in 2006 and went on to Xavier High School, Syracuse University, and a career as an entrepreneur, says that at REACH for the first time he didn't always get excellent grades and he was "surrounded by people who were much smarter than me on an academic level. It's humbling for one, but then two, it just showed you the level of competition here. So it also validated that I had to step it up."
The hard work that REACH students put into their demanding classes on top of their regular school work has paid dividends. Each year, REACH administers a national standardized test that is similar to the exams its students will take to gain admittance to Catholic high schools. The progress has been remarkable. For the past seven REACH graduating classes, the average gain in percentile points (which measure where a student ranks compared to national norms) from 6th grade to 8th grade is 9.2, which is a dramatic, eye-catching figure for those in the education field.
These academic gains are exemplary, but they are only part of what makes REACH special. While sharpening its students' minds and academic skills, the program also molds these young men into exemplary leaders and, in the Jesuit tradition, Men for Others. REACH has five core principles that are integrated into every aspect of the program: Open to Growth, Intellectually Skillful, More Faithful, More Loving, and Servant to the Community.
"They preach about their five principles all the time," says Carlos Ventura '16, who graduated from REACH in 2012 and is now a senior at Cornell University. As a REACH student, Ventura didn't give much thought to how these principles were influencing him outside the program. Years later, though, he says he has a deep appreciation for how REACH changed his personality — transforming a shy, quiet student into one who is comfortable asking a lot of questions, for example — and how he continues to apply these principles to his daily life. "When you look back on it, you realize that actually it worked."
The Arrupe Project, a service initiative undertaken by all REACH 8th graders, is one component of the program that many REACH alumni point to as having had a particular impact on them. Named for Fr. Pedro Arrupe, SJ, the longtime Superior General of the Society of Jesus who passed away in 1991, the project calls on REACH students to identify a problem or challenge in their local communities and implement a program to help address it.
Polanco still draws inspiration from one of his classmates' Arrupe project. The student had organized an initiative in which he got elderly people in his neighborhood together on a regular basis to play checkers and chess. It wasn't a grand, groundbreaking undertaking. But what Polanco admired was how such a simple but meaningful act could tangibly impact others — in this case, elderly residents who often lacked other opportunities to socialize.
"He was a middle school kid. He was super young," Polanco remarks. "And it just felt really empowering to feel that, even though I was a child, I could do something really good."
Like many REACH alumni, Polanco says that the Arrupe Project and his broader REACH experience instilled in him an enduring drive to seek out opportunities to help those in need. In 2019, he led a service project focused on nutrition and public health through the Obama Foundation's Community Leadership Corps. Polanco offered free cooking classes to Chicago residents who live in food deserts, sharing recommendations on how to make balanced, nutritious meals with ingredients that are readily available in their communities.
The Arrupe project is one of many examples of how Jesuit tradition and spirituality inform and animate the REACH Program. Advisement groups are named after saints (like St. Francis Xavier, SJ, and St. Peter Faber, SJ) and other prominent Jesuits (like Fr. Mateo Ricci, SJ, and Fr. Rutilio Grande, SJ). Each REACH class day at Regis begins with Chapel, where REACH students pray together, sing hymns, and listen to reflections. When the students live in dorms at Fordham and Scranton during the summer, each day ends with a nighttime reflection, a modified version of the Examen that teaches the boys  a deeper, more introspective form  of prayer.
"For me, it gets to the core of what the program was attempting to do, and that's self-reflection," Fr. Mario Powell, SJ, who served as Director of REACH from 2015 through 2019 before becoming President of Brooklyn Jesuit Prep. "God already knows who you are and God will continue to add to that information, but what God really needs from you is for you as an individual to know who you are as well."
When asked about their most meaningful memories of REACH, many alumni point to the nighttime reflections. "I didn't realize at the time how profound of an impact it was," says Ruben Martinez '09, who was a member of the inaugural REACH class that graduated in 2005. Martinez, who now works at Facebook in Austin, Texas, says that he still tries to take time at night to look back on the day and think about what he did well and what he could have done differently.
Nighttime reflections also are a key ingredient in the deep, enduring bond that develops between REACH students. Most students enter the program not knowing any of their classmates, who come from different neighborhoods, schools, and backgrounds. But by the time they graduate, thanks to the  three years they shared and especially the three weeks each summer living  in community together, they have formed friendships that will last well beyond REACH.
Enrique Abreu-Ramos '19, who is a member of the prestigious Posse Scholars program at Vanderbilt University, says that he stays in close contact with his REACH friends during the school year and makes plans to get together with them when they return to New York for breaks from college.
"It's an interesting fraternity that they become a part of at the age of 10," says Russell Quiñones '09, who joined the administrative staff in 2018 in the new role of REACH Program Director of Graduate Support. "They have this connection across the city to all five boroughs, and it happens organically."
The connection extends beyond individual class years. REACH alumni, nearly all of whom graduate with great affection and gratitude for the program, are motivated to support and connect with the REACH students who have come after them.
"I know that going through the REACH Program is what led me here, and I just want to make sure that they understand how much I respect and appreciate the program," Ventura says. "I hope that the new students get the same experience that I got, that it's as transformative as I felt it was, and hopefully they can follow a similar path."
This desire to serve the program and its next generation has motivated many alumni to return to REACH during the summers as counselors during their high school years and collegians during college. Past and present REACH administrators agree that these two positions — which are now mostly filled by REACH alumni — have been instrumental to the program's success.
"They work 18-hour days, and they do it with a smile and are excited to be with the kids," Eickman says. "I think they model the perseverance that it takes to be successful in our institutions. They share stories of their time in the REACH Program and, if they didn't go to REACH, their stories of their time at Regis or Xavier or Fordham Prep."
REACH students often connect with and look up to the counselors and collegians — who are closer to them in age and usually come from similar backgrounds — in a different way than they do with REACH teachers and administrators. "I've had so many people to look up to in the REACH program," Abreau-Ramos says. "I think that might be the thing that I'm most grateful for."
As a college student, Abreu-Ramos still hears from REACH. In his new role, Quiñones offers support and guidance to REACH graduates during the high school and college years, focusing especially on the transition years — freshman year of high school and college. He also works closely with REACH's alumni board and plans to increase opportunities for REACH graduates to support current students and younger alumni.
A sharper focus on alumni support is one of a number of recently completed, ongoing, or planned enhancements to the program, many of which were identified as priorities during Regis' strategic planning process. This summer, REACH completed a four-year gradual expansion that grew the total enrollment from 100 to 150 boys. Clyde Cole '87, an educational consultant who was REACH's original Assistant Director and helped Fr. Devron get the program off the ground, returned to teach a class at Regis in the summer of 2018 and was around the program full-time for the first time in years. "It feels very much like a school," says Cole, who noticed more "hustle and bustle" than he remembered. "It's a lot bigger than a lot of Nativity schools."
Eickman and his team also continue to look at how they can strengthen their curriculum, and they would like to add a fourth residential summer. (Currently, REACH students who have just finished 8th grade attend the three-week summer session at Regis, but they don't travel to Scranton.) REACH hopes to hire an additional admissions officer to work alongside Assistant Director and Dean of Student Recruitment Alan Garcia '08.
There is no shortage of interest in REACH. In early January, Garcia stood up in front of a standing-room-only Regis auditorium and spoke to a crowd of more than 400 potential students and family members and, in English and Spanish, shared the details of a program with life-altering potential. He was followed on stage by a panel of REACH students and their parents, all of whom raved about the changes they observed in their sons. A few nights later, another 250 people attended a second open house. More than 400 students have been nominated for REACH this year. From this group, 75 boys will be chosen as semifinalists and brought in with their families for interviews. In the end, 54 full scholarships to the program will be awarded.
Those 54 will then find themselves in the same position as Pedro Polanco once did — away from home, living on a college campus with a group of strangers, and wondering what this program might bring. And while Polanco still can't write with his left hand, he can offer a resounding endorsement to any REACH newcomers.
"I don't know how you could ever say enough about REACH, to be honest," he says. "I wouldn't be anywhere I am today without that program."
Thank You!
Like Regis, the REACH Program is tuition-free and funded by the generosity of its supporters. For a full list of individuals and foundations who make REACH a reality, please visit regis.org/annualreport.
If you'd like to make a gift in support of REACH, please visit regis.org/givetoREACH or contact the Development Office at giving@regis.org or 212-288-1142.
Posted: 4/5/20