Joe Manfredi '20 Notches His 1,000th Career Point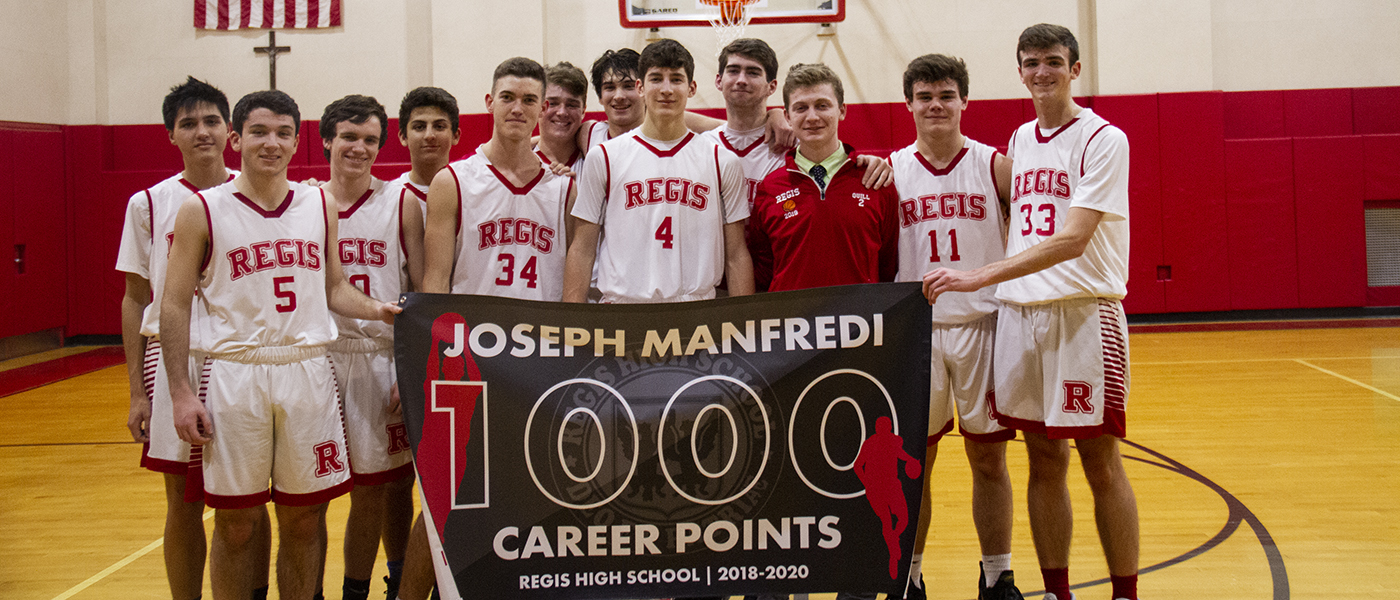 Manfredi (#4) celebrates with his teammates after being honored at a ceremony on January 14.
Two defenders hounded Joe Manfredi '20. With just under two minutes to play and a four-point lead to protect, Salesian seemed intent on preventing any late game heroics from the Regis star, who already had poured in 27 points.
Manfredi spotted an open teammate, Joseph Zuccarello '21, and passed out of the double team. As he released the ball, he immediately cut toward the basket, leaving the two Salesian players behind him. Zuccarello passed the ball right back, and Manfredi rose up and hit a contested jumper from just beyond the foul line, cutting the Salesian lead in half — and cementing his place in Regis basketball history.
That shot, taken in the final minutes of the game on Friday, January 10, put the Regis senior over 1,000 points scored in varsity competition for his career. Manfredi joins former greats Brian Foley '98 and Marty Mannion '77 as the only Regians in recorded history to reach that mark.
"It's an honor," Manfredi said. "It means a lot."
The milestone also carries special significance for Manfredi because of another former high school basketball star who is a member of New York City's 1,000-point club. Linda Manfredi, his mother, surpassed 1,000 points in her career at Moore Catholic High School on Staten Island, and she accomplished the feat without the benefit of the three-point line. "She doesn't let me forget that," Manfredi jokes.
The younger Manfredi's march to 1,000 started two seasons ago when Mr. Kevin Cullen, the longtime Regis coach, invited the talented player to join the varsity team as a sophomore. Cullen didn't promise playing time, but Manfredi quickly established himself in preseason scrimmages as one of the team's top performers. He started throughout the season and helped lead the Regis squad to a city championship and a state title. In the thrilling state championship game, the young Manfredi led all scorers with 23 points. He followed up his standout sophomore season with an excellent junior campaign, again helping guide the Raiders to a city crown.
When Manfredi hit the shot that put him over 1,000, the tight game againt Salesian was paused, and the senior was presented with the game ball as classmates and family members roared with approval. The following Tuesday, during halftime of a game against Sacred Heart, the Staten Island native was honored again and presented with a banner commemorating his 1,000 points.
"He deserves it," said Cullen, who is in his 19th season at the helm of the varsity program. "He works harder at his craft than anybody I've ever coached, and I've coached some great players over the years."
At 6-foot-4, Manfredi has the ability to score inside on drives and put-backs, but he says he's most comfortable firing from the perimeter, where the prolific three-point shooter's height allows him to shoot over defenders even when guarded closely. "Three is greater than two. That's my philosophy," he jokes.
While his scoring prowess garners the most attention, Manfredi is a complete player. "He can shoot, pass, rebound, and he has a great handle for someone who is not a natural point guard," Cullen said. "He is also as mentally tough as he is skilled as a player, and his basketball IQ is off the charts."
Reflecting on reaching 1,000 points, Manfredi deflected much of the credit to others. He thanked Cullen as well as his teammates past and present, including the upperclassmen who embraced him as a sophomore and pushed for him to have a significant role on the team. The senior, who loves the intensity and mental toughness that basketball requires, said playing alongside his fellow Regians has been a pleasure. "You're never going to find a smarter group of basketball players."
Manfredi's tenacity and excellence on the court also extends to the classroom, where he has thrived at Regis. Rev. Arthur Bender, S.J., '67, who has taught Manfredi in each of the senior's four years at the school, remembers being immediately impressed with his inquisitiveness and fearlessness.
"My first encounter with Joe occurred when I took over his freshman history class for a couple of months when his regular teacher was on maternity leave," Fr. Bender said. "Joe stood out immediately from his peers because he was constantly asking questions. He really did want to understand completely the material we were covering, and he did not mind showing his ignorance by asking questions.
"I found this especially remarkable for a freshman at Regis since students here were all at the top of their class in grammar school and the last thing many of them want to do is admit that they do not know something. Joe had no such hesitation. He did not care what others thought; he only cared about mastering the material."
Manfredi will carry these attributes with him to college next year, where he plans to continue playing basketball. The University of Chicago, the Massachusetts Institute of Technology, and a number of other Division III programs are recruiting him.
But before Manfredi leaves Regis, he has another significant goal in mind: Helping his team capture a third-straight city championship. Stay tuned.
A video of Joe Manfredi's 1,000th point and photos from the banner presentation ceremony are below: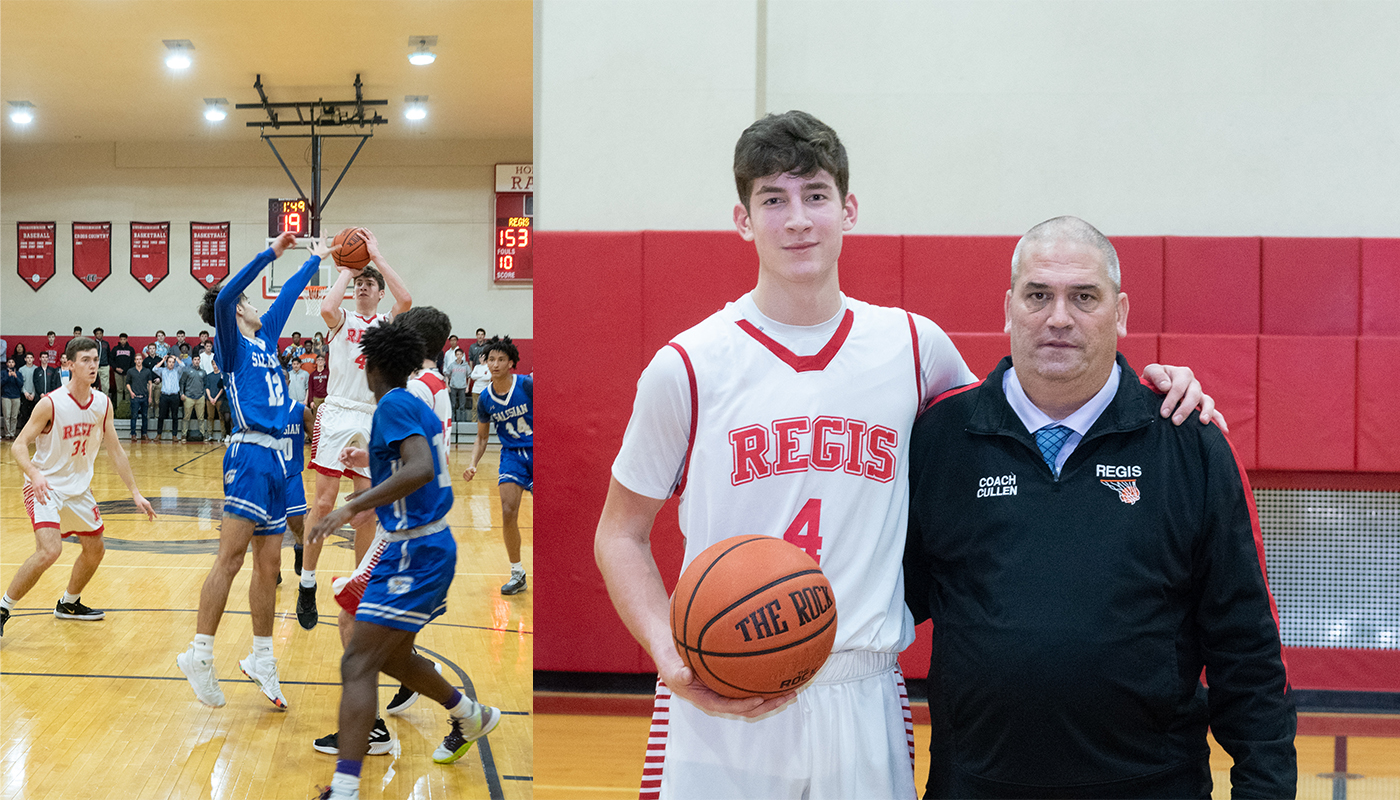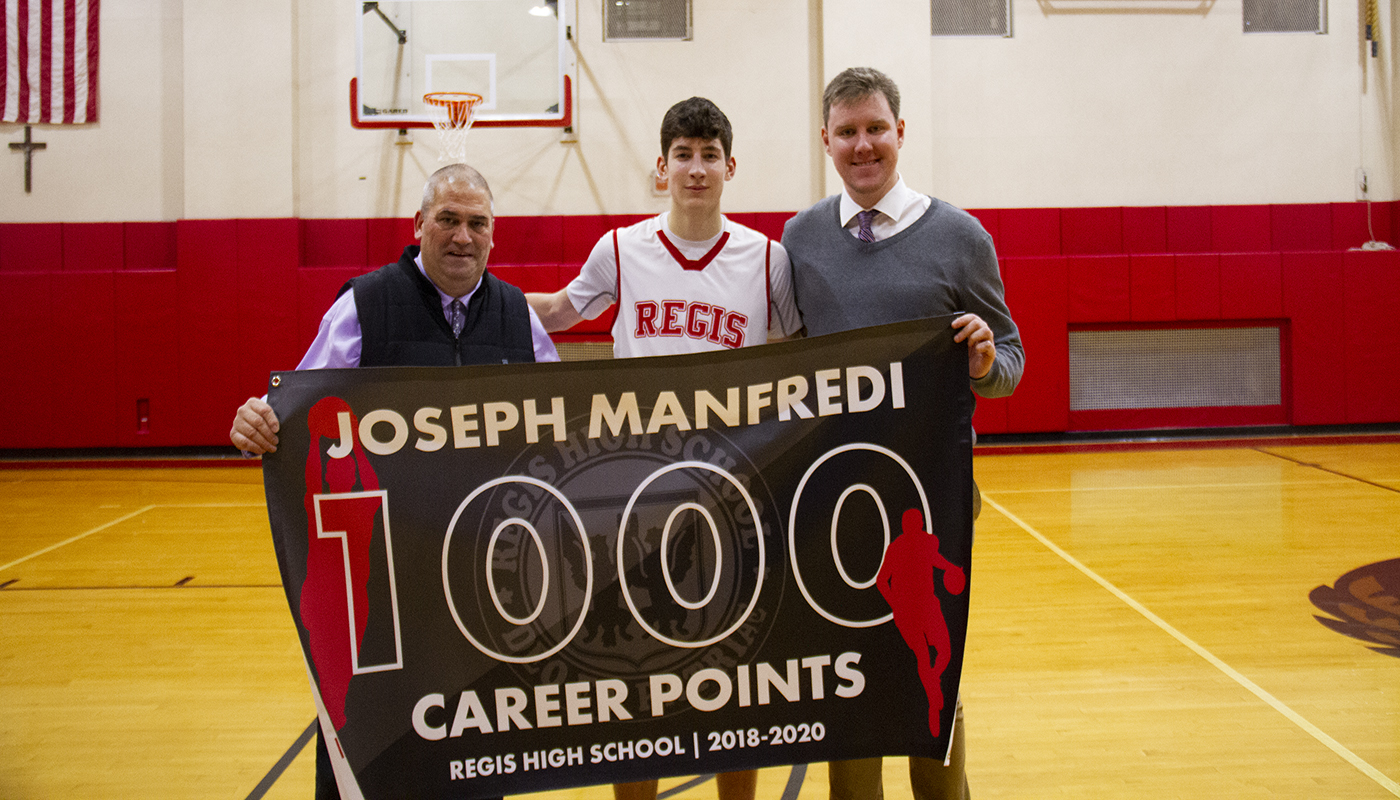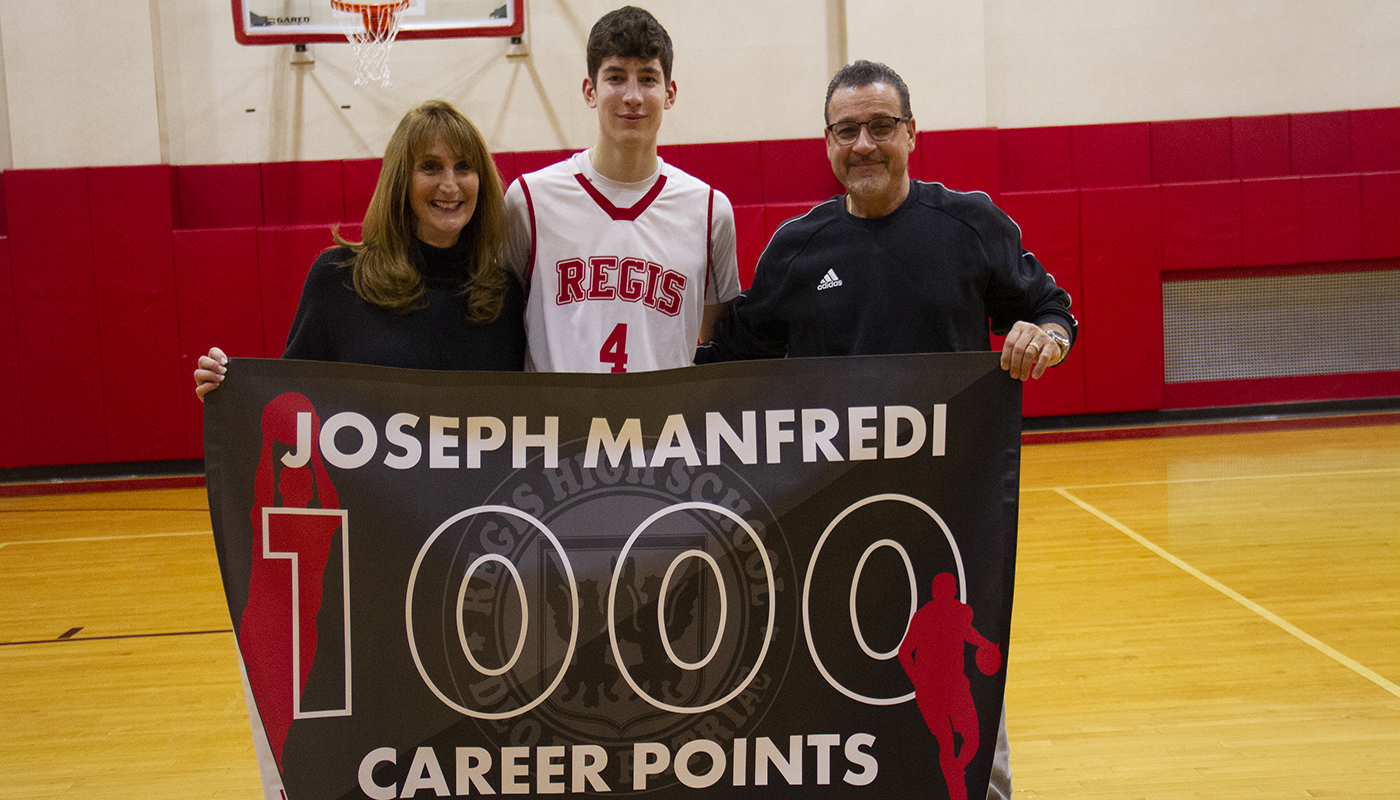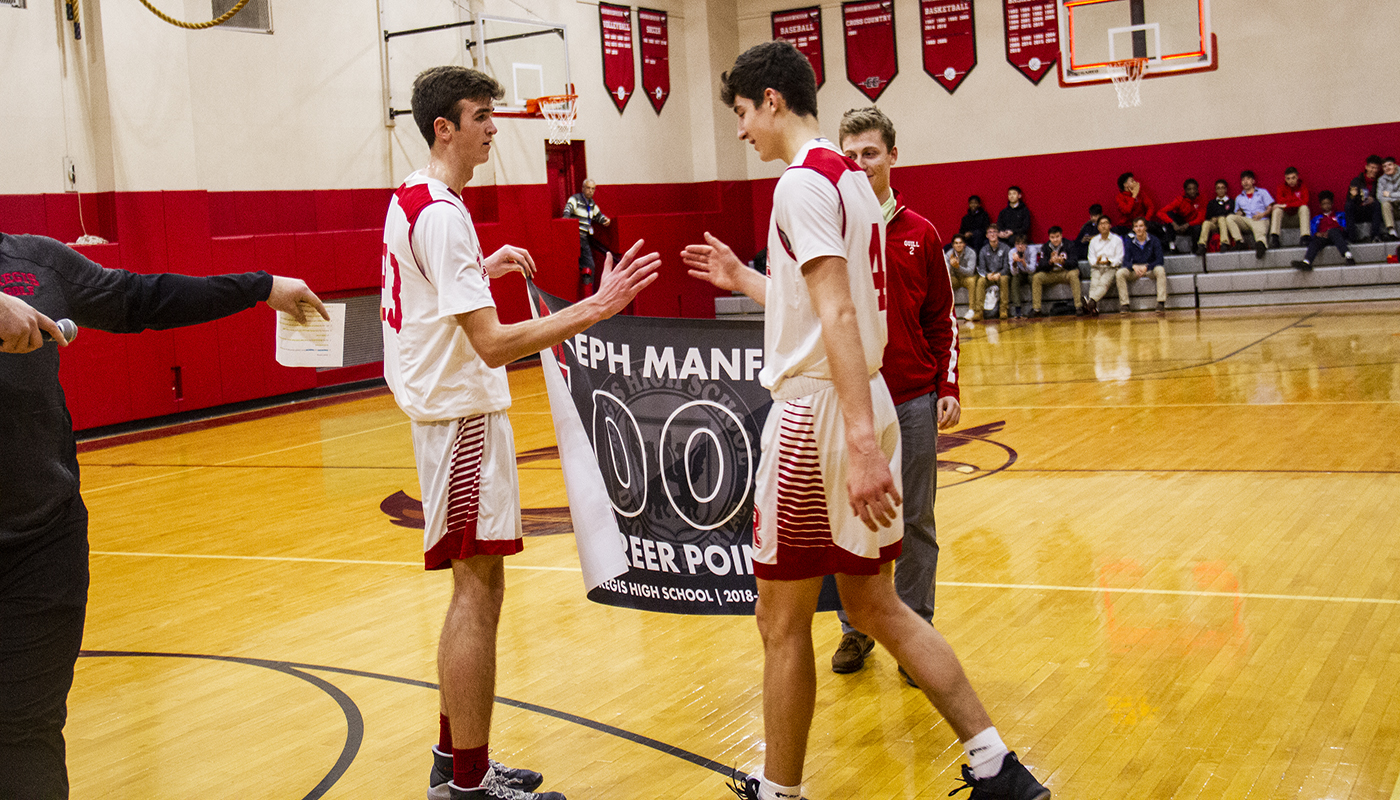 Posted: 1/15/20