Triple Threat: Regis Sweeps CHSAA City 'B' Championships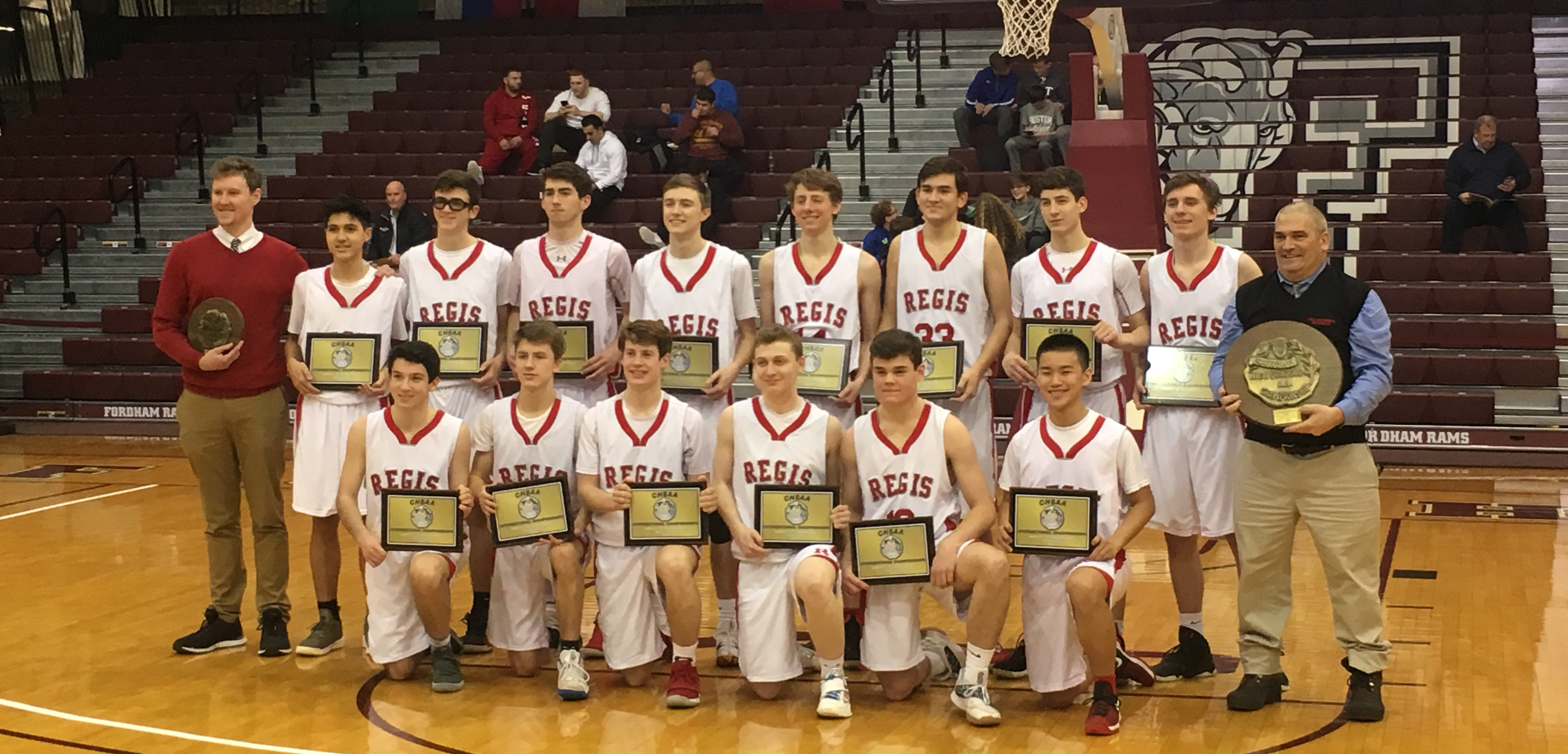 March Madness came to Regis a bit early this year: during the last weeks of February all three Regis High School Basketball teams made their way to City Championship contests in their respective divisions.
The Freshman and JV teams kicked off the by storming into the finals of the CHSAA "B" Division games. Both teams faced Salesian High School teams for the titles in an exciting doubleheader on February 24 at Salesian. Led by head coach and Regis alumnus Dr. James Shanahan '77, the Freshman team took control late in the first game to earn a 47-44 victory and claim the Intersectional Championship.
Not to be outdone by their younger counterparts, just hours later Regis's JV team took a 6-point victory and the second championship for the day, again getting the best of worth opponents from Salesian. Coach Jack Moran, a Regis alumnus from the Class of 2008, was pleased with his team's performance and an impressive city title.
A strong regular season performance earned the Varsity team a first-round bye. They advanced directly to the semifinal round, where they took a convincing victory over Cristo Rey at St. Raymond's in the Bronx.
A week later at Fordham University's Rose Hill Gym, the Raiders looked to repeat as City Champions. They faced a talented Salesian team in a matchup of squads that had split games during the regular season. In a low-scoring, back-and-forth game that came down to the final minutes, clutch play led the Varsity to win 43-40. This solidified a repeat City Championship for this team, as well as a clean sweep City Championships in all three levels of the CHSAA "B" Division.
Varsity Coach Kevin Cullen remarked, "This season was incredible. In my 18 years as Varsity Coach, only one other team has won 20 games in a season, and that team was the 2005 squad who were also Federation Champions. So this 2019 team is in good company. They're also just a great group of guys." When asked what made the team so successful, he added, "Our defense was incredible this year. Out of the 26 games played, we held opponents to under 60 points 24 of the 26."
Congratulations to Varsity Coach Kevin Cullen and the whole coaching staff and the players on all three levels on an outstanding season.                                               
Posted: 5/7/19