Fall Convocation Recognizes Student Achievements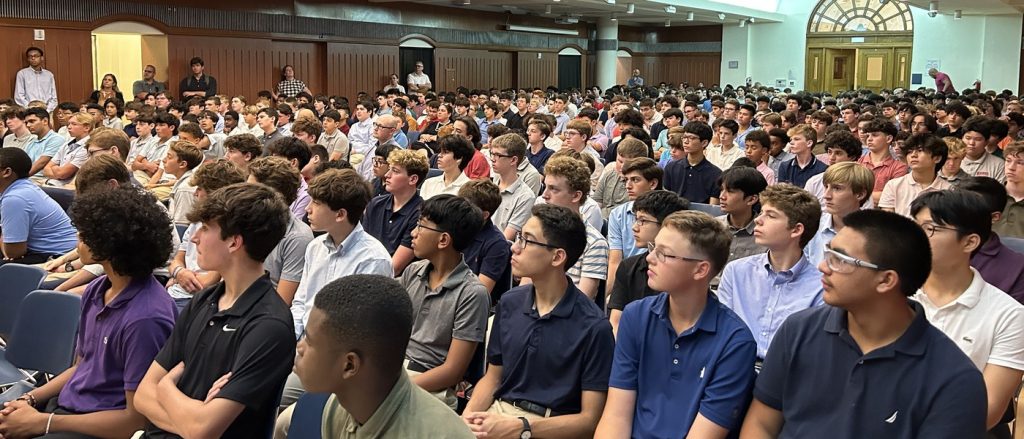 On the new school year's first day of classes Monday, the student body and faculty gathered for the 2023 Fall Academic Convocation, which celebrated Regians' achievements from the previous year. Students who earned final grades of Honors or above in all full-credit courses were awarded Order of the Owl recognition. General Excellence awards were given to students on the basis of superlative performance in coursework and, in the opinion of the faculty, extraordinary level of interest, initiative, and achievement beyond the classroom. Individual awards were also bestowed upon select upperclassmen for their accomplishments within the school community.
"If this convocation is about notching off things that people can write on college applications, then it really doesn't have much value," said Regis President Christopher Devron, SJ. "But if this is about you being faithful to a call to use your intellect, to use your gifts in ways that you are going to find to serve others and to give God greater glory, then for sure this convocation is about faithfulness. It's about faithfulness to the gifts that God has given you. That's what we're here to celebrate today."
Listed below are the awards presented at the Fall 2023 Academic Convocation:
St. Michael's College Book Award: Zach Serbam '24
The St. Michael's Book Award is awarded to a student entering his senior year who has strong academics and demonstrates a sustained and sincere commitment to community service and to issues of peace, justice, and concern for others.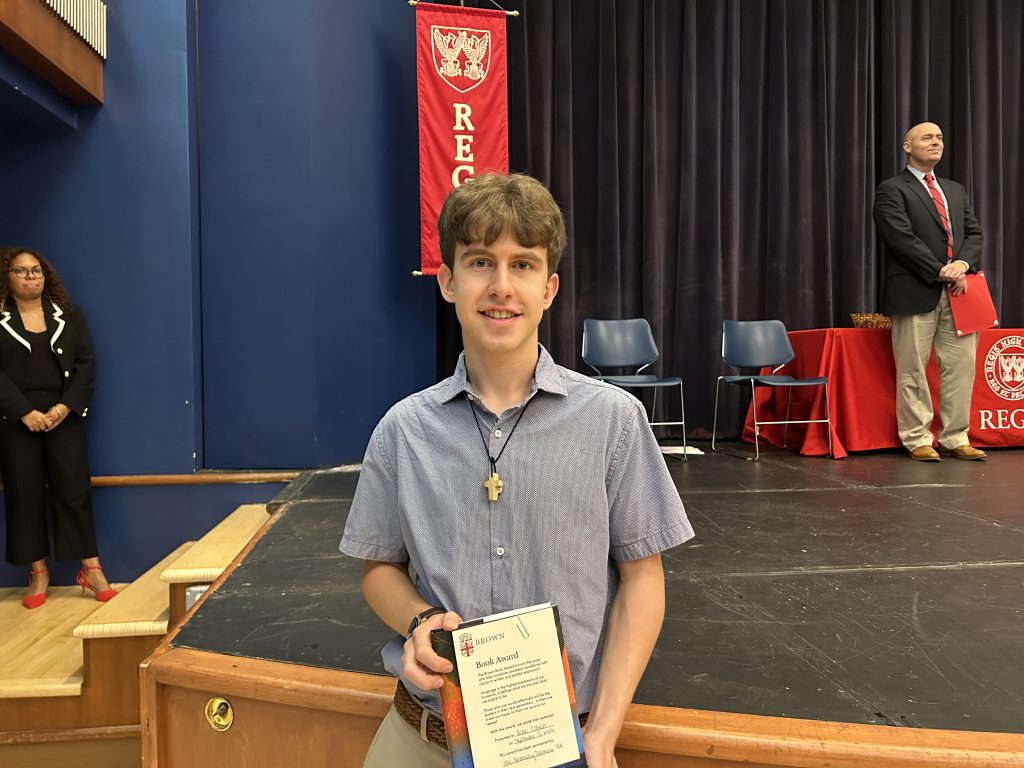 Brown University Book Award: Alex Cohen '24
Each year, through the auspices of a Regis alumnus, Brown University offers a book award to the Regis student entering senior year who best combines academic excellence with clarity in written and spoken expression.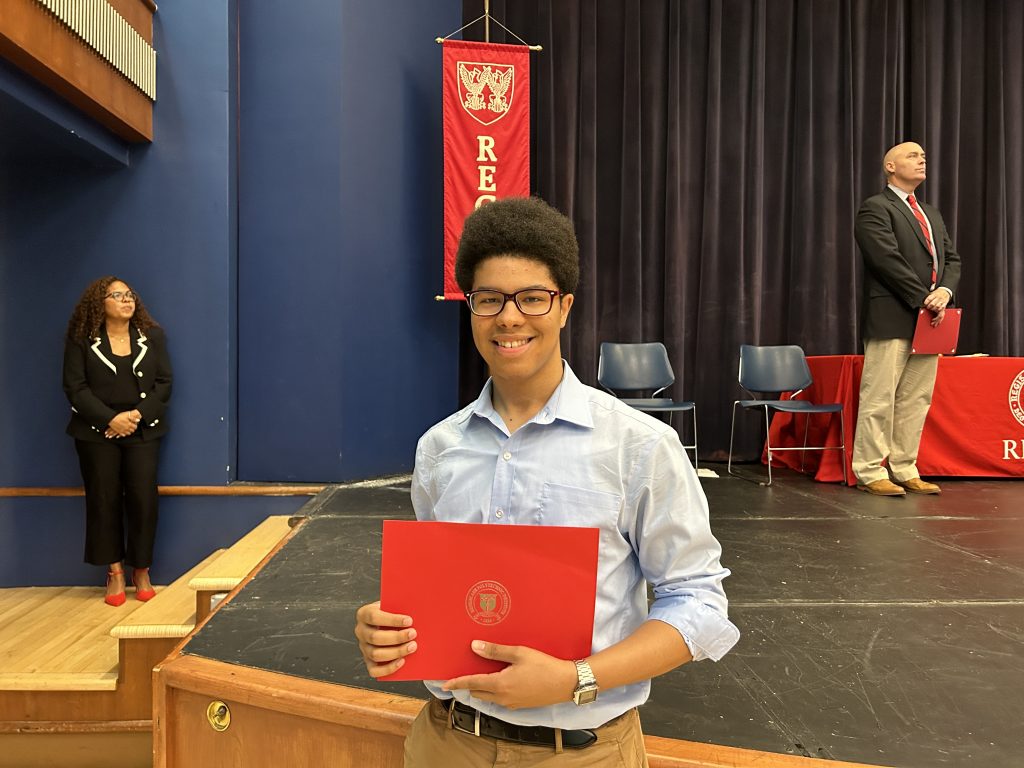 Rensselaer Award: Joshua Severino Sanchez '24
Rensselaer Polytechnic Institute awards an annual prize to students beginning senior year in selected high schools who have performed outstandingly in mathematics and science during their high school careers.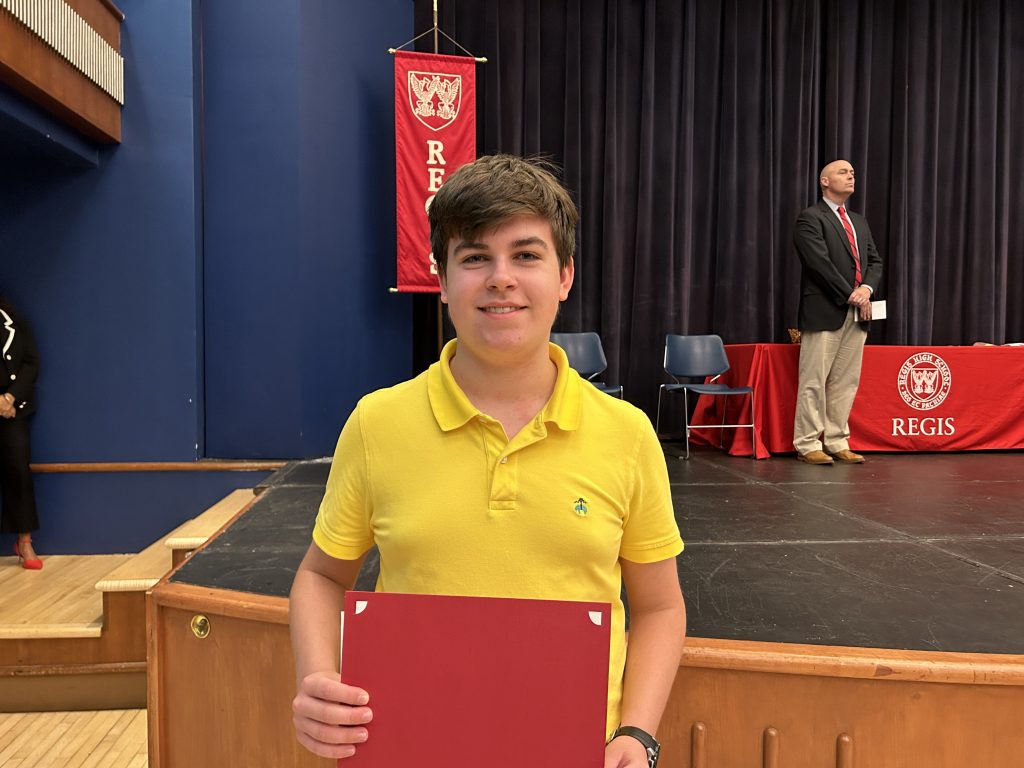 Rochester Institute of Technology Award: Charlie Scheuermann '24
The Rochester Institute of Technology Award recognizes a rising senior who demonstrates interest and ability in math and science and is an involved and active member of the Regis community.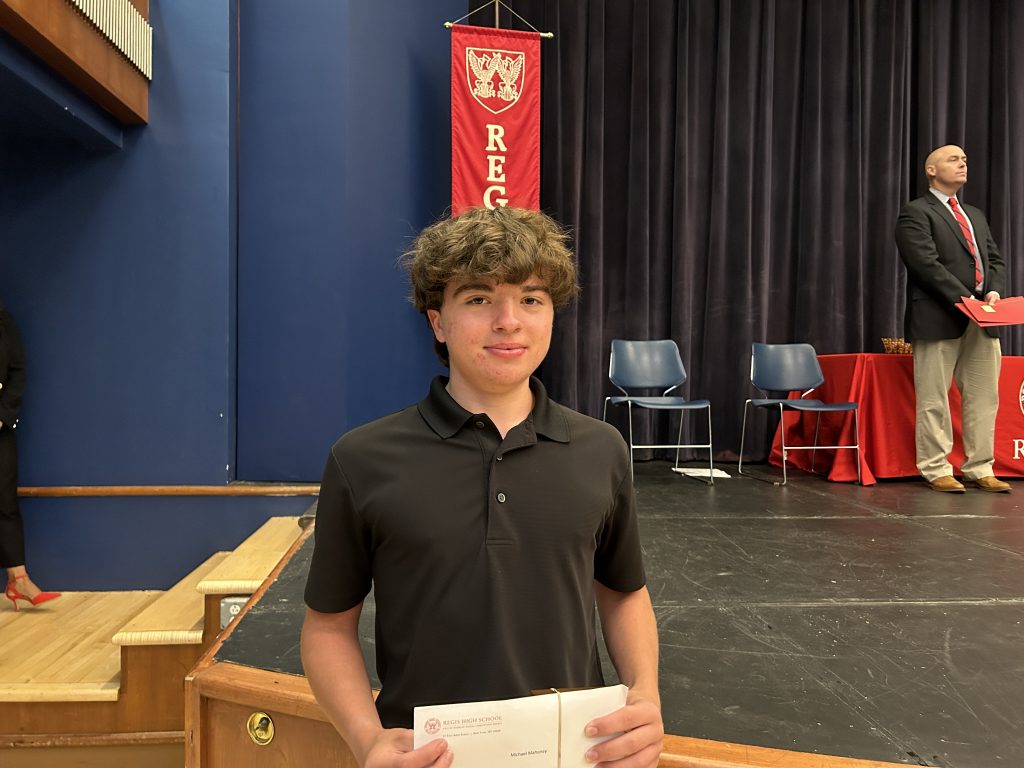 Timothy F. Beckett, Jr. Award: Michael Mahoney '24
The Regis High School Class of 1966 established this award in memory of their late classmate, Dr. Timothy F. Beckett, Jr. The award provides a challenge to Regians and is given to the student who in his first three years at Regis best exemplifies the ideals of Christian service to others, leadership, the promotion of justice for all, and the pursuit of excellence that Tim embodied while at Regis and throughout his life. This award's true value is the invitation to all Regians to follow and commit to a lifelong call to live with generosity and noble hearts, as Tim did, in the service of others and the advancement of justice.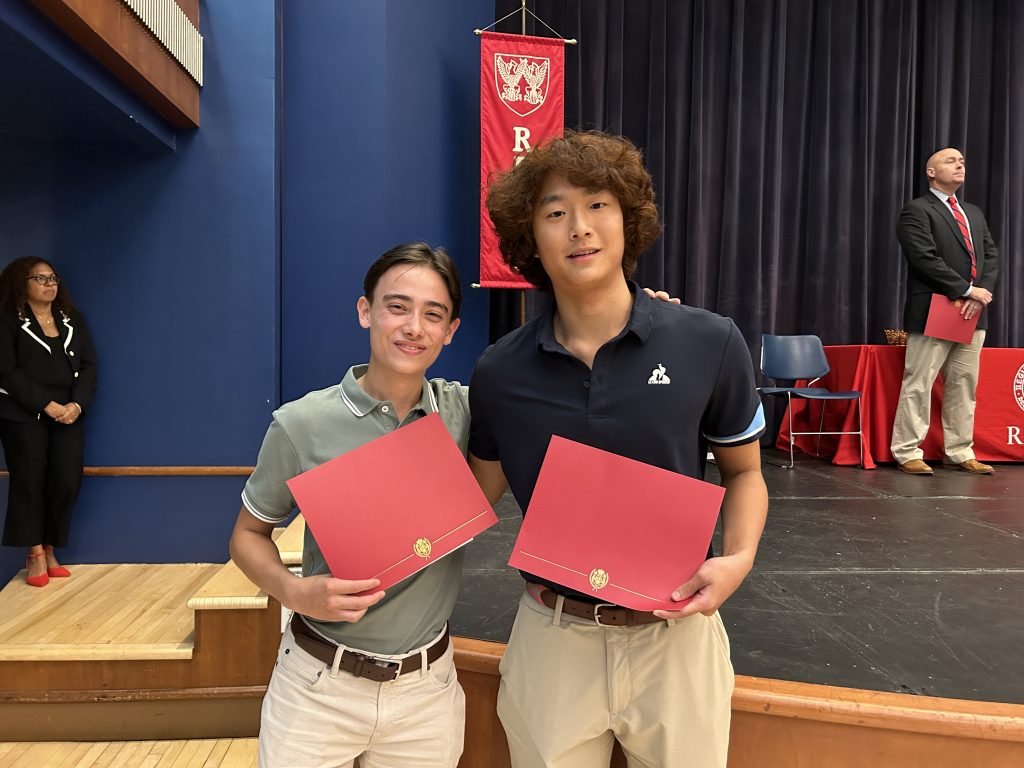 Margaret T. Rodden Christian Service Award: Kai-Shan Kwek-Rupp '24 and Chris Kim '24
At the suggestion of the Student Council, Regis established certificates for service to the school in the field of extracurricular programs, activities, and Christian Service. Several years ago, a benefactor also contributed a monetary award in memory of Margaret T. Rodden for the recipient of this certificate. Many of our most successful programs could not exist and people in our community could not be helped without the labor, organizational ability, and devotion of students who work, often unnoticed and unthanked, behind the scenes.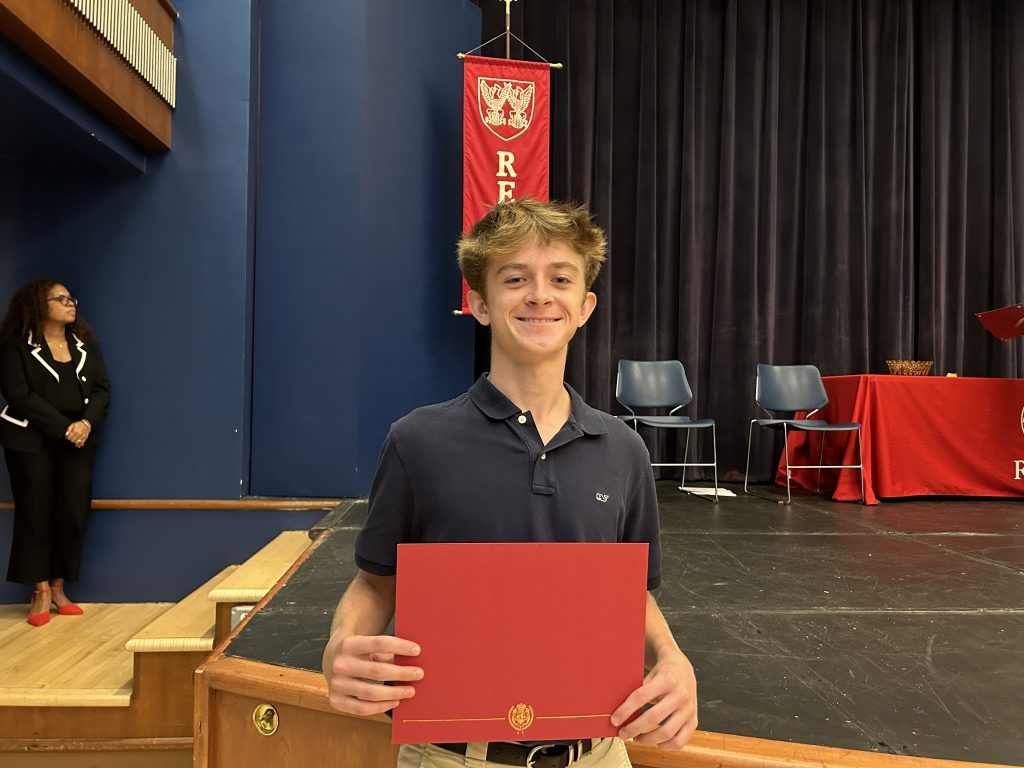 Joseph Lagano, Jr. Award: Charlie McMahon '25
The Joseph Lagano, Jr. Award, named for a member of the Class of 1998 whose death in the summer between his sophomore and junior years was a tremendous loss to the Regis community, is presented to a student beginning his junior year who in his first two years at Regis exemplified the values of service to Regis, to those in need, and to the civic community.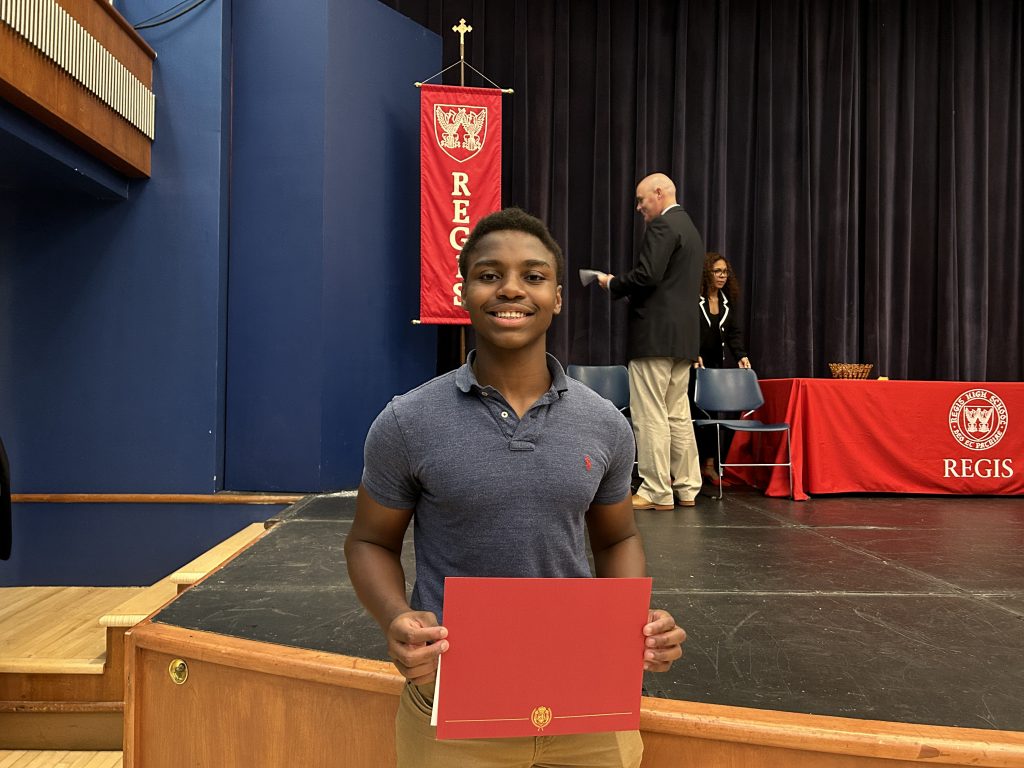 Le Moyne College Heights Award for Leadership and Service: Silas Nwaishienyi '24
The Le Moyne College Heights Award for Leadership and Service is given to a rising senior who is ranked in the top 25 percent of the class and has made significant contributions in leadership and service to our Regis community.
General Excellence
Seniors (Class of 2024): Anthony Venturino, Charles Scheuermann, Caleb Lee-Kong, Kai-Shan Kwek-Rupp, Michael Cameron, Robert Taverni, Michael Mahoney, Gebran Kastoun, Silas Nwaishienyi, Daniel Bajada, Jonah Kennedy, Jake Koehler
Juniors (Class of 2025): Holden Nelson, Ryan Grondin, Ayan Pai, Evan McElfresh, John Bianco, Peter Grande, Robert Spinna, Lionel Augustine, Jacob Magahis, Liam Bergerson, Leonardo Damato, Nicolas Araneo, Colin Jennings, Liam McCormack
Sophomores (Class of 2026): Brin Lamons, Benicio Noble, Gianmarco Miraglia, Andrew Giordano, Liam McCarthy, Felipe Moreno-Naya, Arsi Tinaj, Oliver Kahng, Brendan Hirshorn, Gerard Beleckas, Quinn Kessler, Ryan Levens, Carl Furtado, Thomas Mullin
Order of the Owl
Seniors (Class of 2024): Adhyatman Agarwala, Jason Alperin, Dylan Alphenaar, Philip Andriola, Daniel Bajada, Luca Bianco, David Biviano, Lucius Camaj, Michael Cameron, Ray Canning, Ryan Carmody, Tasio Cole, Sabato Daniele, William Daniels, Theodore Dros, Dominick Facchini, Dominic Intervallo, Gebran Kastoun, Jonah Kennedy, Jake Koehler, Kai-Shan Kwek-Rupp, Aiden Kwiatkowski, Jake Labella, Joel Lazcano, Caleb Lee-Kong, Michael Mahoney, Aleksander Manda, Luke McGibbon, Xavier Milano, Rhandy Morocho, Thomas Nolan, Silas Nwaishienyi, Brendon O'Keefe, Stephen Owen, Nolan Paul, William Pilecki, Mark Quaglia, Kieran Redington, Vincent Rivellese, Charles Scheuermann, Christian Scheuermann, Zachary Serban, Joshua Severino Sanchez, Aidan Short, Jake Sidell, Joseph Tatarka, Robert Taverni, Luke Tocco, Matthew Ty, Anthony Venturino, Brandon Wilk
Juniors (Class of 2025): Nicolas Araneo, Lionel Augustine, Liam Bergerson, John Bianco, Daniel Cabral, Adam Cartano, Nicholas Ciordas, Fintan Clery, Matthew Colandrea, Matthew Cosenza, Luca Dalven, Leonardo Damato, John Facchini, Jose Galindo, Brendan Galvin, Matthew Gassoso, Peter Grande, Ryan Grondin, Maximus Hansen, Colin Jennings, Joshua Jung, Joseph Kaecker, Will Kenyon, Ethan Klimczak, Alec Lagunes, Noel Lavergne, Ethan Lee, Jacob Magahis, Charles Mango, Liam McCormack, Evan McElfresh, Derek Miller-Murphy, Holden Nelson, Daniel Noonan, Jack Obrycki, Emmet O'Sullivan, Ayan Pai, Henry Perduto, Michael Petrides, Thomas Pizzulli, Maximilian Schiller, Joseph Singer, David Solano, Robert Spinna, James Stappenbeck, Liam Sweeney, Peter Taibi, Ricardo Tlatenco
Sophomores (Class of 2026): John Allegra, Gerard Beleckas, Kevin Brennan, Lucas Bujosa, Modest Burchak, Michael Cascetta, Aiden Cauley, Fausto Cavaleri, Luke Connolly, Raymond Durante, Dylan Ehret, Sebastian Eng, Robert Fellingham, Robert Flanigan, Carl Furtado, John Germak, Andrew Giordano, Thomas Giordano, Calvin Gonzalez, Brendan Hirshorn, Colin Jette, Oliver Kahng, Quinn Kessler, Benjamin Kingston, Andrew Lahage, Brian Lamons, Samuel Lauriello, Ryan Levens, Jaume Llorca Luth, Paul Mangione, Nathaniel Marks, James Masterson, Liam McCarthy, Gianmarco Miraglia, Felipe Moreno-Naya, Thomas Mullin, Edward Napoli, Benicio Noble, Kevin O'Neill, Dylan O'Sullivan, Timothy O'Sullivan, Clayton Prisament, Antonio Takata, Arsi Tinaj
Posted: 9/11/23