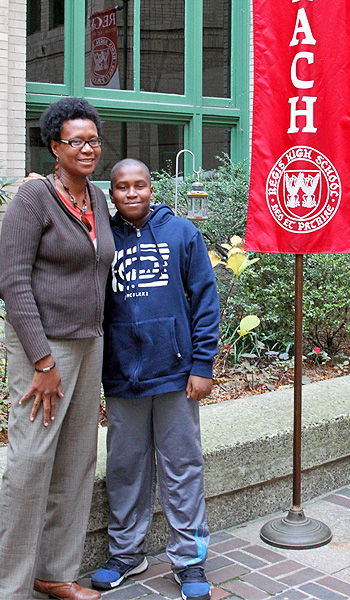 Where were you born and where did you grow up?
I was born in a small town on the Northwest part of Haiti called Saint-Louis-du-Nord. At a very young age, my family moved to the capital city, Port-au-Prince. I immigrated to the United States in 1987, lived in Boston and moved to New York two years later. Grégor was born and is being raised in New York City

How did you first hear about REACH? What attracted you to the program? What were your initial reservations, if any?
Last fall, my son's school's principal, Ms. Breen sent a note home informing me that she had chosen Grégor among 4 others to apply for the REACH program. I had never heard about REACH before, but had heard about Regis. The son of a friend of mine who went to Grégor's school currently attends Regis and he was constantly telling us how great the school is. I was honored that Ms. Breen had recognized my son's aptitude for more academic challenges and that she trusted that the REACH program could help him expend his love of learning. I was excited for the great opportunity that Grégor had, a chance to get into Regis and the other Jesuit High Schools in New York City. The only reservation that I had was that he would go away without me or family for three whole weeks for three summers.

Did you attend a REACH Open House [with your son]? If so, what did you take away from that event?
Yes, I did attend the REACH Open House with Grégor. I liked that the panel of young men was able to convince me that this would be a good program for my son to be a part of. Furthermore, parents of current REACH members were great in talking to us about the process. They were able to answer some burning questions that we had about the program and what our role would be as well as what the commitment would mean for the entire family.

Why did you ultimately decide to have your son apply to REACH? What was the application process like for you?
As a parent, we have to take seriously the cues that our children give us. There was no doubt that Gregor needed to be challenged. The REACH opportunity came at the right time. An opportunity like this only knocks once. There was no question in my mind that the REACH program would be a good fit for my son. The application process was very smooth as everyone involved in the REACH administration walked the parents through what was needed to be done. It was very straight forward. The REACH staff (Mr. Garcia) treated everyone with so much respect that I felt even more that the program was a fit for my son. He gave us ample time to fill out the application and make decisions. There was always someone available to guide us through, answer questions and just simply talk to.

How did you feel about sending your son away to Scranton for 3 weeks?
At first, I was a bit reluctant to send my 10 year old away for three weeks without me or a family member. I was afraid that Grégor would not adjust, that he would miss me (those were my own feelings because Grégor could not wait to start his journey). To make matters worse, the Wednesday before they went to Scranton University, I took Gregor and Bertin out to celebrate and while riding his scooter Grégor fell and got a buckle fracture in his left wrist. We spend the major part of the night in the Emergency Room. He had to wear a splint and an arm sling for three weeks (his entire stay at Scranton). I questioned while waiting in the ER if I should let him go, but when the nurse told me that it might be a good idea to skip "camp", I replied without hesitation that was NOT an option. Even with that accident, we kept coming back to the fact that the opportunity that was given to Grégor was far much greater than the fear that we were experiencing, and we definitely could not pass on it.

How has your son changed since joining REACH? How has your family changed, if at all?
Grégor has become more independent both in his thinking and his academic work. His language skills and vocabulary have become more sophisticated as he uses many of the words that he has learned both this summer and this fall semester. His organization skills have slightly gotten better but there is a lot more room for improvement. Because education is very important in our family, we have always made sure that Grégor has everything that he needs to focus on his studies. We have not really changed but rather improved in giving Grégor the resources he needs to succeed.

What would you tell a current 5th grade family contemplating REACH for their son?
It is a great opportunity and it only comes once. It is a long term commitment, but it is totally worth it. This program not only will challenge the mind of your son, it will also form him to become a citizen of the world and a strong member of the Catholic family.

Why would families consider applying to REACH?
Families should consider applying to REACH in order to take part in a program which mission is to form catholic boys for life. This program is an entry point to success as it prepares your child for and through high school and gives him an opportunity to follow a great path to college.